How does Axon Fleet work?
Axon Fleet leverages Axon hardware and software as well as an agency's existing in-car technology to provide for a connected and reliable in-car video system. Below is an overview of Axon Fleet components, workflows, and common video offload models. For additional inquiry to Axon Fleet deployment options and integration with your agency's existing technology, please contact your Axon Sales Representative.
Axon Fleet Components
Axon Fleet hardware system:
- Axon Fleet Cameras x2
- Axon Fleet Mounts x2
- Axon Fleet Power Units x2
- Wiring Harnesses
- Bluetooth USB Dongle
Axon View XL
Router - Cradlepoint or other in-car router capable of supporting a WPA2-PSK (AES) wireless network
MDT/MDC - Agency provided Mobile Data Terminal/Computer
Axon Signal Unit
Axon Dock (only for No Internet Connectivity In Car deployment models)
Start of Shift
Axon Fleet requires an officer to authenticate to Evidence.com via Axon View XL at the start of their shift. This authentication ensures that that subsequent video capture and Axon Fleet system activities are uniquely tied to the officer. If an agency has enabled Multi-Factor Authentication or Single-Sign On on their Evidence.com account, these advanced authentication mechanisms will be enforced.
In-Car Video Playback and Live View
In-car playback and live view of Fleet video adhere to the following general data flow principles:
An officer using the Axon View XL application (View XL) clicks Live View or Review
View XL communicates with the Fleet camera to playback videos files located on the local, on-camera storage or live views the camera's current capture stream
View XL does not retain a persistent copy of the video that was retrieved from the Fleet camera for playback
Video Offload to Evidence.com
Axon Fleet's video offload deployment models differentiate how the captured video data gets uploaded to Evidence.com and is primarily dependent on the expected persistent availability of internet connectivity within a car.
INTERNET CONNECTIVITY IN CAR (LTE OR WI-FI OVER WAN)
In-car internet connectivity may be persistent as in the case of LTE in car, or based upon car's proximity to trusted Wi-Fi networks that provide internet connectivity. Regardless, the following general data flow principles apply when persistent internet connectivity is expected to be established within the car:
An officer using the Axon View XL application (View XL) (1a) or an Axon Signal device (1b) activates Fleet cameras and the cameras begin to record to local, on-camera storage
Upon completion of capture, Fleet cameras securely replicates the video files to View XL
View XL stores the video files in a cache on the MDT
When View XL has established connectivity to Evidence.com, View XL securely sends the video file to Evidence.com
Upon confirmed, successful ingestion of a video file, Evidence.com will communicate to View XL that the video has been stored and it is OK to delete the copies located in Axon View XL's cache and on the Axon Fleet camera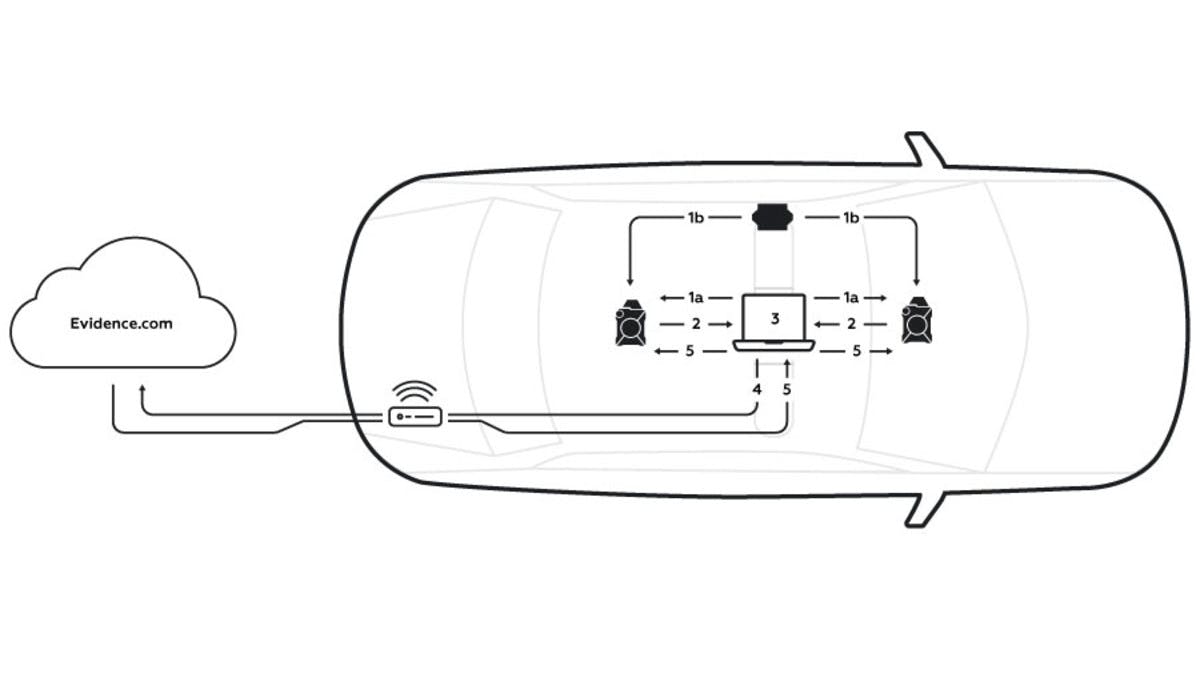 NO INTERNET CONNECTIVITY IN CAR (DOCK AND WALK)
When internet connectivity is not expected to be persistent within a car in the field or at the station, Axon Fleet cameras can leverage an Axon Dock located within an agency's premise to provide video upload capabilities over the internet. The following general data flow principles apply:
An officer using the Axon View XL application (View XL) (1a), or an Axon Signal device (1b) activates Fleet cameras and the cameras begin to record to local, on-camera storage
Upon shift completion, an officer disconnects the Fleet cameras from their mounts and places them in their agency's Axon Dock
The Axon Dock coordinates secure upload of the Fleet camera video files to Evidence.com
Upon confirmed, successful ingestion of a video file, Evidence.com will communicate to the Axon Dock that the video has been stored and it is OK to delete the copies located on the Fleet camera