Greg: A Day in the Life of a Security Professional
Published on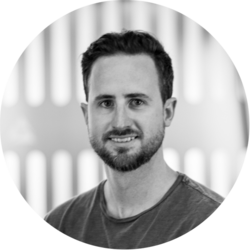 Curious about what goes into keeping Axon's software products secure? In another installment of our "A Day in the Life" employee feature series, we interview Gregory Hewes, our Senior Manager of Trust and Security. Greg has worked at Axon with our Information Security team for over 3 years. Before Axon, he earned a BS from Miami University and a MBA from Northwestern University, and worked in Information Security at TransUnion.
What do you do as Senior Manager of Trust and Security?
Generally, the scope of Trust and Security extends beyond the typical field of Information Security. We focus on building trust with our customers through security and privacy-related compliances as well as marketing and sales support activities. In practical terms, it means we conduct technical analysis of customer or regulatory requirements, map those requirements to what we do at Axon, and develop and present proof to our customers that depicts how we exceed those requirements, particularly in the cloud space.
What does a regular work day look like?
I get in early — I support a lot of international sales so I'm usually fielding emails in the morning or doing focused tasks. During the day, I meet with the Product, Marketing, Engineering, Legal, and Sales Operations teams to discuss projects and strategies. I also answer customer queries and write up loads of documentation to clearly define to external parties how we achieve our security, compliance and privacy objectives.
How is the Trust and Security team structured?
We are a small group that's part of the larger Axon Information Security team. Since we're small, we have shared responsibilities across most Axon products and our team's programs, which means that we work closely as a group. We try to break apart our tasks in themes, like US Federal compliance or internal assurance programs, where certain people will take the lead.
What's the hardest part of your position?
Supporting all of our new international markets. Most countries have their own data security standards and their own unique way of assessing and authorizing the cloud-based services and devices Axon builds. We work closely with our in-country groups to get closer to our customers and figure out what similarities there may be to security regulations and authorization paths in which we are more familiar. A lot of governments have historically been resistant to cloud-based services due to security concerns, so we work diligently to overcome those objections.
What do you find fulfilling about your job?
We're in the unique position to blaze new trails with governments and police agencies when it comes to using cloud services. We're normally one of the first cloud services that police officers use, and definitely the first in our specific industry. This enables our customers to return their focus on serving their communities and not on time-consuming administrative tasks or supporting legacy IT systems.
What traits are important for a person in an Information Security role?
Someone with the ability to take on complex challenges that haven't been solved before, or are without clear direction for achievement. Technical competency is certainly important since we're an engineering company, but on the softer side, they need internal initiative to steer through challenging problems.
"We're always looking to optimize, whether it's for our employees or our customers."
What do you like most about working at Axon?
All the people are great —I haven't met anyone who isn't. We've got a great work atmosphere with a cool, fun office and good events. I also appreciate the flexibility and Axon's focus on employees. I have small kids and my flexible schedule allows lets me be able to focus on family life. Even small things such as working around traffic schedules make a difference — if you can come in early and save 30 minutes to an hour on your commute, it gives you that much more time in your day.
I'm also excited about our global growth. I travel to our international locations to meet with customers, and it's interesting to see how people take fundamentally different approaches to information security and risk evaluation. It's amazing that we're in a position to work and help with not just law enforcement in the US, but also around the world.
We've got great opportunities ahead of us, and everyone's open to change. Nobody's sticking to old rules just because. We're always looking to optimize, whether it's for our employees or our customers.