Surbhi: A Day in the Life of a Software Engineer
Published on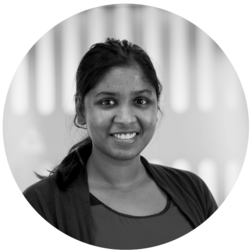 Interested in the people who build Axon's software products? We're featuring Surbhi Singhal, a Senior Software Engineer in our Body-Worn squad. Before Axon, she worked for Qualcomm as an engineer in San Diego. Surbhi has a Master of Science degree from the University of Florida.
How did you start working at Axon?
Coming to Seattle and Axon kind of happened more than I planned it. I had been working at Qualcomm for 6 years, and was looking for a change. I got approached by Axon through LinkedIn, and I didn't know anything about the company before I came here. I was looking for a smaller company to be more personal and have a bigger impact, since I'd been at a big company for so long. I was a little cautious, because the company seemed nice but there were a few shaky reviews online. But I came in and was blown away when I met the people. It wasn't the office at all — back then it was a work in progress and not as pretty as it was now. It was the people, the passion, the mission, and I wanted to be a part of it.
What are the main aspects of your role?
My title is Senior Software Engineer. I work on everything that goes into the camera. The few different tiers of work we are responsible for are development for new products, support and bug fixing, and device monitoring. Development for new products involves design discussions, working with customers to try to predict what they need next, adding those features into the next generation to help their work. Support and bug fixing is for officers that discover issues with the cameras that are already out in the field. And device monitoring is really important, as we want our cameras to perform reliably. We get alerts from camera logs if any of them malfunction or aren't behaving as they're supposed to, and we pull those logs to see what happened and ensure that the customers are having the best experience with our cameras. We aim to find problems before they are reported by officers, so we can fix it before they even find out.
The breadth of what you do here changes so dramatically that you get to learn a lot of different aspects of firmware — different stacks and technologies.
What are some technical challenges that you face?
The biggest thing right now is expanding everything in scale. Things like anticipating and predicting how the camera will work at the rate that we're growing, and making sure everything we do is tested, reliable, and easily recoverable. We don't want to be responsible for losing any critical videos.
What are important traits for someone in your position/team?
Communication, flexibility, and a drive to learn new things. Communicating your ideas through the company and the many different teams is important because your work isn't restricted to just the firmware realm. You have to work with designers, product managers, sales, marketing, and a bunch of other teams. The breadth of what you do here changes so dramatically that you get to learn a lot of different aspects of firmware — different stacks and technologies. And on a squad, you're responsible for everything, including dealing with the challenges of each component of the firmware, like camera, audio wireless or bluetooth. It's constant learning on the job because you're always wondering what's next. The challenges depend on the day, so flexibility and adaptability are important.
Any lessons you'd like to give your past self?
Spend more time learning, taking courses, and reading books. It gives you a bigger perspective and you're able to make decisions with a lot more knowledge. That gives you so much more freedom — in choosing which platform you want to use, which language you want to code in — and helps you make those decisions in the future. It's easy to get comfortable with what you know and just stay there, but fighting that is fun and will help pave a road in the future.
What are your favorite perks of working at Axon?
There's the normal tech company stuff — snacks, metro pass and transportation stipend, but there are also the more meaningful things, like the passion that drives people here. What you do is very tangible, so it's easy to be passionate about what you're doing here on a day-to-day basis. Also, hearing back from officers about how the work you did impacted them in a positive way. Sometimes we get very kind emails.
Best experience at Axon so far?
Last summer, we went and jumped in Lake Union as a company. 25 to 30 of us decided on a Friday morning that we were going to do it, and we walked from the office to the edge of the lake. Someone picked up goggles, and we just went and jumped. It's a really random thing to do, but it really embodies the spirit of this company. In what other company would you be able to do that? It was awesome.
What excites you about Axon's future?
Axon has the possibility of making a change in society. It's a little cliche but the world is heading in a direction where knowledge is power, and being able to provide that sort of knowledge to law enforcement would make everyone safer.