Law Enforcement Technology Report: A Look at Body Cameras
Published on
As the industry tries to keep up with platform-based consumer technologies, many agencies are grappling with how to
implement new solutions. We've compiled the latest statistics on body cameras, mobile, and the cloud in our new Law
Enforcement Technology Report. We hope the report helps agencies understand the changing tech landscape and outlines the
questions agencies should ask before adopting new technologies.
We'll be covering some of the report's highlights in a series of posts that cover each section of the report. In this post, we'll look
at the current state of body cameras.
Body cameras are quickly becoming mainstays of law enforcement agencies, as policy-makers and national leaders have called
for greater investment in body-worn video programs. Despite their recent adoption, police departments have seen some
tremendous results after wearing body-worn cameras.
Body Cameras Have Reduced Complaints, Use of Force

Across the country, agencies have seen complaints drop after adopting body cameras, with the city of Rialto, California seeing them go down by 87%. Cameras have led to drops in use of force. Use of force fell in Mesa, Arizona by 75% after the city deployed body cameras. In Newport News, Virginia, the rate of guilty pleas in DUI cases jumped from 70% to almost 90% after the department started recording DUI stops.
What Do Citizens Think?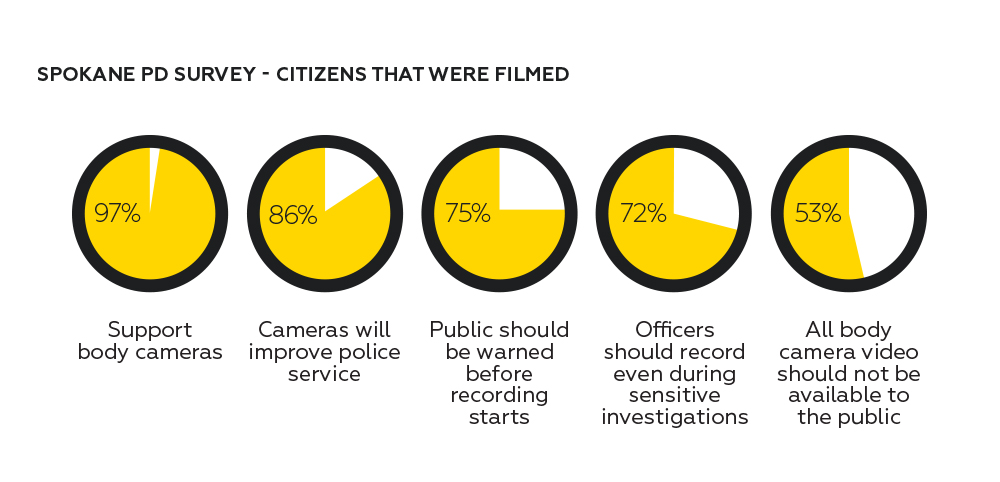 While surveys of the general public have shown that wide majorities of Americans support the use of body cameras, few surveys
have focused on citizens who directly interacted with law enforcement wearing body cameras.
At the end of 2015, Spokane, Washington released an audit of its body-worn video program that included survey results from
members of the public who were filmed during the city's trial program. The results showed that citizens uniformly supported the
use of the cameras and overwhelmingly believed that body cameras will improve police service. In a surprising result, the survey
also showed that a majority did not believe that all footage should be accessible to the public.
After Cameras: Processing Records Requests & Other Concerns

Though body cameras may reap benefits for agencies, a successful deployment requires having camera guidelines in place and instituting a process for managing public records requests.
With standard software, Washington, DC Metropolitan Police estimate that reviewing and redacting 5,000 hours of footage could take more than one million hours, or nearly 150 years. That's why we've built our redaction suite for Evidence.com, which streamlines each stage of your workflow, so you can easily find, redact, and deliver your digital media. In addition to the redaction issue, agencies should have policies for retaining footage, activating cameras, and reviewing video before deploying their cameras.
These numbers suggest that if agencies are ready for cameras, they can see great results, potentially reducing litigation and saving time and money. To reach this point, agencies must be prepared with proper policies and technology in place to accommodate the growing amounts of data. In our next installment, we'll explore how agencies can benefit from employing mobile technology in the field.