Tamas: A Day in the Life of a Senior Software Engineer
Published on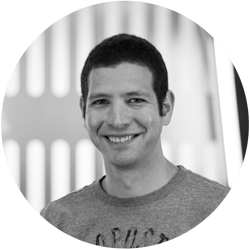 Interested in the people who build Axon's products? Wonder what it's like to work here? This week, in the newest installment of our "Day in the Life" series, we're featuring Tamas Weisz, a Senior Software Engineer. Before joining Axon in the spring of 2016, he worked at Amazon and startups, and holds a B.S. and M.S. in Computer Engineering from the Budapest University of Technology and Economics.
What are the main aspects of your role?
The obvious ones are coding and code reviews. Besides those tasks, I participate in architecture discussions and decision making, and come up with software designs. I also interact with stakeholders like Product Managers and designers to determine what should get built. Sometimes I work on operations and issues as part of the on call rotation.
These days, the largest amount of my time is code reviewing. As the tech lead of the Media Streaming and Redaction (MSR) squad, one of my responsibilities is to make sure the code my team produces is correct, maintainable, and readable. My other hours are split between between smaller discussions and actual coding.
How did you first hear about Axon?
I was contacted by a recruiter. At first, I was really unsure - at the time we were called TASER and I was really confused about the branding because sometimes they would mention TASER, Axon, or Evidence.com. The brand TASER was kind of a red flag for me, but I came to the office anyway to check it out and chat with a few people. That was a really good experience; I liked the look of the office and what I heard from other people, and saw that it was a much better company than my initial impressions told me. Axon connected me with other engineers and I had a few brief calls before feeling ready to make the switch. The people seemed nice, friendly, and really good at their jobs, and the actual on-site interview was also a good experience. I liked the questions I got and it was fun to engage in technical discussions with the interviewers. And I was attracted by the mission once they explained what we actually do.
What does a regular work day look like?
I usually come in around 9, and start by reviewing slack and emails. My email consists mostly of code review requests, which I try to go through in the morning, to start with a clean slate. In the morning, usually there are a couple of recurring meetings to keep every team aligned, like back-end council meetings and Digital Evidence Management leads meetings. These are mostly to make sure that we're not working on parallel tasks and that the tech choices we're making are consistent with our vision. We also have a 5 minute daily team standup at 11, and then in the afternoon it depends — sometimes I do interviews for an hour here and there, sometimes I have individual meetings on specific projects. On an ideal day, I don't have anything scheduled after 2pm so I can sit down and code. On a perfect day, I can put on headphones, grab a beer, and code until 9. I normally stay until 6 or 7, though.

What are important traits for someone in your position or team?
We definitely need someone with strong coding abilities. Someone who has the ability to hold the entire system in their head and see how it all works while being able to look out for details at the same time. Right now, my team's main challenge is to build a huge piece of redaction software, which has lots of moving parts such as front end, desired functionalities, and possible functionalities on a short-, middle-, and long-term timeline, so being able to see the big pictures but also zoom in is important. And they need to be friendly.
What excites you about Axon's future?
There are so many possibilities. Every cool new piece of technology that appears ever in the world is applicable to the space of applying technology to help protect life. Every new cool buzzword that comes up — computer vision, machine learning, big data, cloud, you name it — we can do it. Some of these are now an actual reality. Some are in the near future, some further. But these are all important things that, if applied correctly, will make a difference in people's lives.

What would you say is the most unexpected benefit of working at Axon?
Oftentimes we hire people who are great and teach you new things. I've been doing tons of front end work since spring, and I used to hate front end with a passion before. I hate it a little less now because I learned good front-end processes and new technologies, and sometimes I even enjoy coding in the front-end codebase. When you get to an organization the size of my previous employer, which is huge but still hiring like crazy, it's harder to have that kind of knowledge transfer.
Favorite experience at Axon so far?
One of my favorite experiences is when I got an award for interviewing a ton, because that's not something I generally enjoyed doing much. It was necessary because of the amount of people we're hiring, and people kept asking me to do more interviews because they trusted my opinion. I was actually spending a lot of time on it, for a different team (Records Management System) and it did feel good when people valued my opinion and I got an award for it and the company acknowledged it.
What is the best part of your job?
When I get into the flow and code with headphones and a beer.