From the very beginning, our goal at Axon was to make the lives of law enforcement easier. Providing a convenient solution to help record critical encounters was one of our top priorities in our mission to protect life, and we delivered on that goal with Axon Signal. Axon Signal allows law enforcement officials to record video footage without lifting a finger. By detecting specific actions and alerting the cameras, Axon Signal seamlessly connects an officer with the Axon Network.
We launched Signal Vehicle in 2015, introducing vehicle triggers like the light bar, crash sensors, speed, and front and rear doors to effortlessly alert cameras of the status change. In 2016, we followed up with the Signal Power Performance Magazine, bringing the simplicity of Signal to CEWs. This year, we're announcing a new addition to the current lineup: Signal Sidearm.
Signal Sidearm is a smart sensor that attaches to most firearm holsters currently used by law enforcement. When a firearm is removed from its holster, a wireless alert is sent to certain Axon cameras within range (30 ft) so that they may start recording. With Signal Sidearm, you never have to worry about missing decisive footage.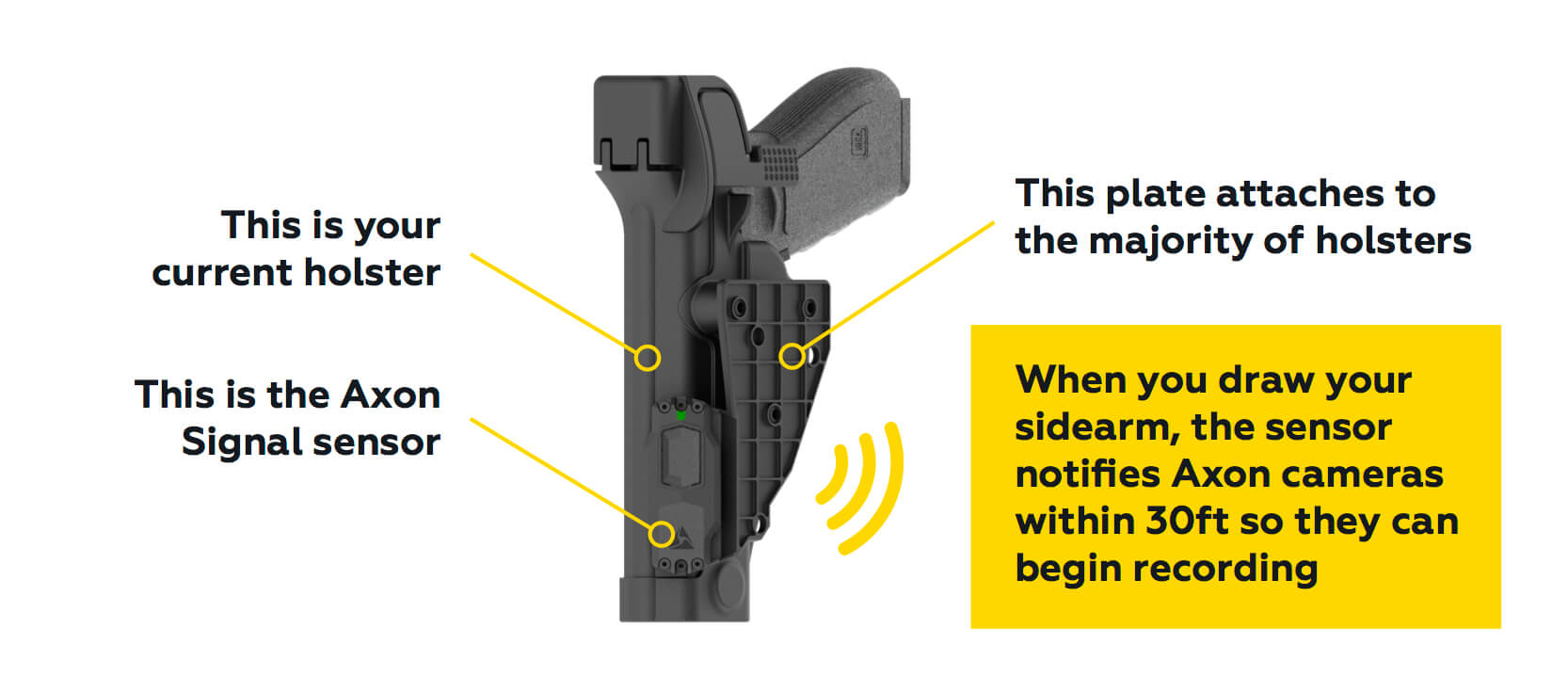 In a high-stakes situation, the last thing you want to do is be distracted by your technology. Our designers anticipated this while working on Signal Sidearm, and we've worked to completely eliminate any features that might get in the way of protecting life, including cords and wires. Once installed, the Signal Sidearm alerts Axon cameras without the hassle of cables.
To make sure you get the most out of Signal Sidearm's tech, we've designed it to be powered by a coin cell battery. The small size of the battery helps make sure that it's an unobtrusive addition to your technology, with the plus of powering Signal Sidearm for one year. Because it's connected to the Axon Network, Signal Sidearm will automatically notify the user if the battery is low. Signal Sidearm is compatible with most sidearm holsters that are used today, meaning that you don't need to purchase a new holster, just add it to your tools. This way, your agency can make smarter, bigger decisions that have a greater impact on the wellbeing of the community.
With the Signal Sidearm, officers can have the confidence to focus on what's really important – the situation in front of them.