TASER In Auto-Activation Camera Space As Early As 2008
A Detailed History of the Technological Evolution of Auto-Activation
Published on
On December 20, 2016, TASER filed an additional petition with the United States Patent and Trademark Office (USPTO) challenging the validity of a second Digital Ally patent (No. 9,253,452) based on prior art, including a prior TASER patent, not disclosed by Digital to the patent office during the patent application process. TASER's U.S. Patent No. 8,594,485 has a priority date of December 30, 2010—nearly 3 years before Digital's patent application. TASER's patent discloses a law enforcement system for aligning multiple video recordings of an event by using a time reference. Digital's subsequent patent attempts to incorporate these same features.
Digital sued TASER in early 2016 claiming TASER's Axon Signal technology infringes two recently issued related Digital patents. These patents generally describe a system for recording multiple viewpoints of an event using a "recording device manager" that has received a trigger signal. Such a system is not new. Indeed, based on the prior art of TASER and others, as well as preexisting specifications of law enforcement customers and the International Association of Chiefs of Police (IACP), Digital's claimed "auto-activation" invention was obvious and unpatentable. Accordingly, TASER filed a counterclaim against Digital in the Kansas litigation alleging inequitable conduct in the patent office for non-disclosure of critical prior art, and filed two petitions (Pierce and Vasavada) challenging the invalidity of Digital's other patent-in-suit (No. 8,781,292) directly in the USPTO on December 1, 2016.
In 2006, TASER released the TASER Cam, a recording device mounted to a TASER conducted electrical weapon (CEW), which was automatically triggered to record both audio and video whenever an officer armed the CEW by removing its safety. Thereafter, based on the needs of its law enforcement customers, TASER's product designs logically progressed to automatic activation of other video recording devices (such as body-worn and vehicle-mounted cameras), based on triggers other than arming a CEW (such as police-vehicle light bar activation). These innovations, conceived and publicly presented years before Digital's earliest patent filing in mid-August 2013, became the "Axon" network of devices and applications. The evolution of TASER's Axon Signal technology is chronicled below.
TASER had long recognized the inherent controversy and high-risk nature of police work. TASER observed how this work sometimes progressed to legal conflict over allegations of excessive force, civil rights violations, and even wrongful death. By utilizing feedback and input from law enforcement, TASER foresaw the natural and necessary evolution from dash-cam technology to rugged and easy-to-use body-worn cameras. TASER therefore extended its less-lethal weapons mission to address post-incident legal reviews for law enforcement. Its intent was to eliminate speculation about what law enforcement professionals had done by providing an audio/video record of what actually happened. With this goal, TASER endeavored to expand its technology and product offerings to protect police officers' careers and reputations in subsequent legal proceedings.
As this effort continued, officers and police chiefs helped clarify their needs on connectivity and automation. Through this collaboration, TASER identified automatic activation of body worn cameras using event triggers as a potential functionality beginning as early as 2008. In March 2009, TASER launched its first body camera, the Axon Pro, and announced its plans for a digital evidence management platform later named Evidence.com. Then, in April 2009, TASER hosted an Evidence.com Technology Summit in Scottsdale, Arizona, where CEO Rick Smith presented "TACOM"—a TASER Communications system illustrated by the slide below: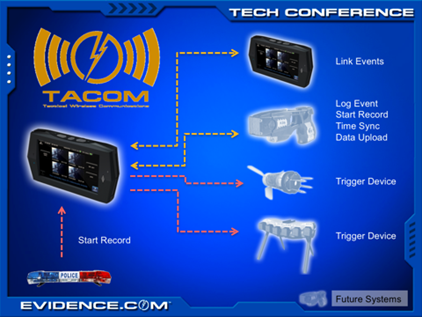 As pictured, the cameras could be triggered by activation of a vehicle's light bar, a CEW, or even another camera. The TACOM system was described by TASER as enabling time alignment and event triggering and logging between devices, including officer-mounted cameras and TASER weapons. This coordination allowed for the alignment of data recordings from connected devices when transferred to Evidence.com.
The TACOM wireless activation technology was also described in TASER's version 15 training program (Slide 52 below), which was mailed to all TASER instructors and shipped on DVDs with every weapon sold starting in July 2009: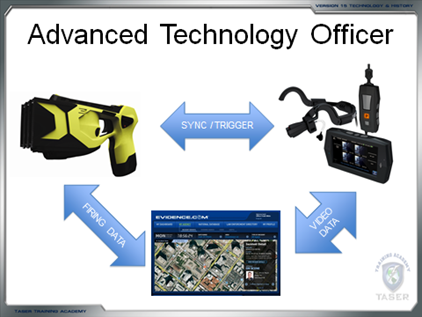 Rick Smith further explained TASER's Advanced Technology Officer Initiative in a video found here.
Also in July 2009, TASER revealed the development of an optional TACOM digital Power Magazine (TPM) at a TASER User Conference that was webcast live. When used with a TASER CEW, event triggering would activate body-worn cameras as detailed in this video.
TASER filed patent applications on triggering and time alignment within such an ecosystem of weapons and cameras in 2010. Ultimately, however, the TACOM Wireless System was delayed in production while the Axon team continued to develop its next generation of cameras.
In February 2012, TASER began shipping the TASER Cam HD.
In May 2012, TASER shipped its first Axon Flex point-of-view cameras.
In July 2013, TASER debuts its Axon Body camera.
In October 2014, TASER rolled out its Axon Signal technology, which clearly built on its own TACOM Wireless System, while the recently launched Signal Performance Power Magazine (SPPM) followed its TPM precursor. Although TASER's TACOM system was not in production before Digital's August 2013 patent application, TASER clearly had conceived, documented, and publicly disclosed its plans for a wireless network of devices with auto-activation capability.
Moreover, the Raytheon 20/20-W system detailed as prior art in TASER's Pierce IPR Petition was commercially available, sold to law enforcement, and used multiple automatic triggers to initiate recording, including a patrol car's light bar or siren well before Digital's patent filing. In fact, such recording systems were so well-known that law enforcement customers were describing them in requests for proposal and detailed specifications. For example, the City of Pomona issued a Request for Proposal in early 2013 that specified: (1) three mounted, miniature cameras; (2) a digital video recorder; (3) a wireless microphone; (4) a monitor to provide integration with a body-worn camera system; (5) auto-activation of the mobile video system and/or officer-worn microphone; (6) simultaneous recordings; and (7) optional metadata and time stamping. Read more here.
Similarly, the IACP issued a "minimum specifications" document stating that such systems should include: (1) at least one camera and at least one microphone; (2) a device used to record Digital Multimedia Evidence and associated metadata; (3) autoactivation of audio and video recording by the Vehicle Recording wireless microphone; (4) auto-activation of a Vehicular Recording System by a police vehicle's emergency lights and/or sirens; and (5) time syncing.
None of this information was disclosed by Digital to the USPTO during the patent application process. Nor was any of the prior art detailed in TASER's recent petitions previously presented or considered by the USPTO during its prior reexamination of Digital Ally's patents.