Law Enforcement Technology Report: The State of Mobile
Published on
We recently released our first-ever Law Enforcement Technology Report, which includes some of the latest statistics on body cameras, mobile, and the cloud to help agencies understand the changing tech landscape. Our last post covered body cameras, and here we'll look at how mobile technology has transformed the way officers work in the field.
Do Officers Use Phones for Work?

Less than 20% of officers we surveyed said that they use agency-issued smartphones for work, yet more than 65% said they use a phone five or more times a day for work-related communication. Officers said they use their phones in various ways: to send emails, make calls, text, and send photos.
Some law enforcement also use apps for work-related purposes. Certain agencies have made their own apps to meet specific departmental needs. We've noticed that apps targeted toward law enforcement are increasingly related to evidence collection and in-field communication.
Why an Agency-Issued Phone Matters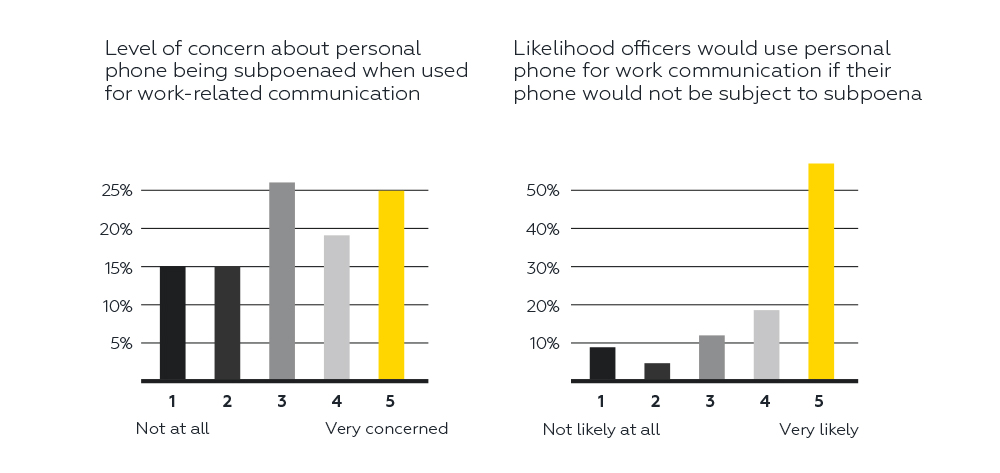 Since so many officers rely on their phones for work without having an agency-issued device, it shouldn't be a surprise that 25% of officers we surveyed said that they were very concerned about being subject to subpoena. A majority said that they would use their personal phones for work if they knew it would not be potentially subpoenaed.
Yet instituting a mobile technology program isn't necessarily cheap for agencies—the New York Times reported that the NYPD's program is projected to cost $160 million. That may sound like a staggering number, but as you'll see, the ROI can make mobile a wise investment.
The Benefits of Mobile

Deploying mobile technology in the field has been shown to save agencies time and money. After using a digital evidence management system and Axon Capture to upload evidence from the field, Washington's Redmond Police Department is estimated to have saved over $1,100 per officer each year.
Deloitte projects that if all agencies in the U.S. had access to mobile data, they could save a total of $1.3 billion, or over 50 million hours in work time.
Nearly every American has a smartphone, yet few officers use phones issued by their agencies. While issuing every officer a phone may be a major investment for most departments, it could result in enormous efficiency savings for them in the long run.
Want to learn more about mobile? Read our full trends report here.