Summer 2020 will be remembered for the social unrest sparked by the deaths of George Floyd, Rayshard Brooks and Breonna Taylor. As the demands for change grew, Axon looked at what we could do better. We started by adding a fourth strategic goal to our company mission — Centering racial equity, diversity and inclusion.

This in turn inspired us to look even harder at our products and our roadmap. Although everything we build is already squarely focused on protecting life and using technology as a force for good, the events of this summer gave our product teams a jolt of extra creative energy about ideas that could directly help with this new strategic goal. The result was a unique campaign and engineering experiment that we call Sprint for Justice. We are humbled and proud of how it turned out, and are excited to share some details.
The Challenge

Most tech companies have no shortage of great ideas, and have fully-committed, difficult-to-radically-reorganize workloads to meet the needs of their customers. Axon is no exception. But what is the exception is that our product roadmap already consists of things that will make a meaningful difference for public safety agencies and the communities they serve, which made the task of tackling new ideas this year a true challenge. It would have been easy to just put them at the back of the line, or at least within existing product planning rhythms. But Axon isn't about "easy," and we were determined to find a way to meet existing commitments and make room for new ideas directly connected to our fourth strategic goal. We wanted to find a way to turn this "or" into an "and!"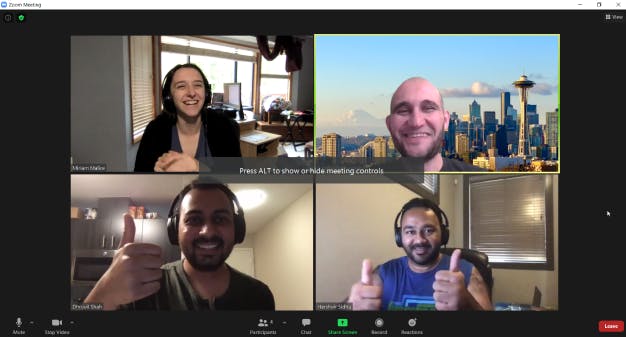 From 80 to 8

How did we decide what made the cut? We started by listing ideas in a shared document on a company-wide Slack channel, inviting everyone to contribute. Within days, we had 80 ideas!

After the initial brainstorming, product team leaders had the tough job of deciding which ones to move forward with. They grouped the ideas into categories and scored them based on key indicators of Impact, Purpose, Feasibility and Customer Acceptance. Ideas with the highest scores were further vetted in a series of roundtables with both law enforcement agencies and community members, hosted by our CEO Rick Smith and CPO Jeff Kunins.

Eventually, we narrowed our list to a set of eight new features that had the highest potential and would be achievable in the two-week sprint period. Then it was full speed ahead: we turned more than 200 engineers, product managers, product designers and other team members loose so they could get to work, not to mention the hundreds of other Axon employees who contributed by keeping the lights on and meeting other immovable customer commitments. You can read more about their experience here.

The Finalists
Where did we end up? These eight new features will give law enforcement new tools to capture the truth, increase transparency, and support officer development. We're also standing up a community coalition made up of voices from outside of law enforcement who can help give greater perspective on how Axon's products affect communities. We're proud of our work to bring these eight to life and encourage you to learn more.

View all 8 Finalists