Overview:
The following frequently asked questions and answers are intended to guide you through Axon's eXponential Stock Performance Plan ("XSPP").
Q: What is the eXponential Stock Performance Plan (XSPP)?
A: In 2018 and 2019, Axon's shareholders approved an innovative new compensation plan where Axon CEO and founder Rick Smith relinquished his salary and future stock grants until 2028 in return for an approach that only pays the CEO upon delivering outsized returns. Now, Axon is allowing all full-time U.S. employees to participate in a bold compensation plan aligned to the same milestones.
Q: Why did Axon create the XSPP?
A: The purpose of the XSPP is to align every eligible employee with the 2018 CEO Performance Award, which was designed to inspire the CEO to achieve both significant increases in shareholder value and also key company growth milestones. The XSPP is intended to encourage long-term thinking and long-term commitment with an opportunity to earn greater rewards for greater success, albeit with higher risks.

This bold, new approach is aimed at retaining and recruiting exceptional talent who have a long-term outlook and motivation to serve and grow the company. Reducing guaranteed compensation in return for the restricted stock units granted under the XSPP has the potential to deliver exceptional returns to employees, but only if the company can deliver significant growth in market capitalization and financial results.
Q: How does the XSPP work?
A: Employees opt into the plan by committing a fixed portion of their annual on-target earnings (OTE). eXponential Stock Units (XSUs) under the XSPP, a special type of performance-based restricted stock unit, are earned only upon achieving milestones, delivering returns to shareholders and realizing stretch operating performance goals. The XSPP is outlined below:
Axon will grant 60 XSUs to all employees employed as of December 28, 2018, contingent upon execution of an award agreement and shareholder approval of the plan.
Additionally, on or before December 28, 2018, certain employees may elect to contribute a percentage of their OTE to the XSPP for every year of employment with Axon beginning in 2019 and until 2027 in exchange for the potential to receive up to 3x the 9-year amount allocated (in the form of common stock) if Axon achieves certain market capitalization, revenue, and Adjusted EBITDA targets between now and early 2028.
Once earned, the shares issued upon vesting of the XSUs are subject to a 2.5 year holding period, during which such shares cannot be sold or transferred, other than to cover taxes incurred in connection with vesting and settlement of such awards. For certain highly-compensated employees participating in the XSPP, the holding period applies to one tranche of shares acquired upon vesting until the expiration of the XSPP in February of 2028.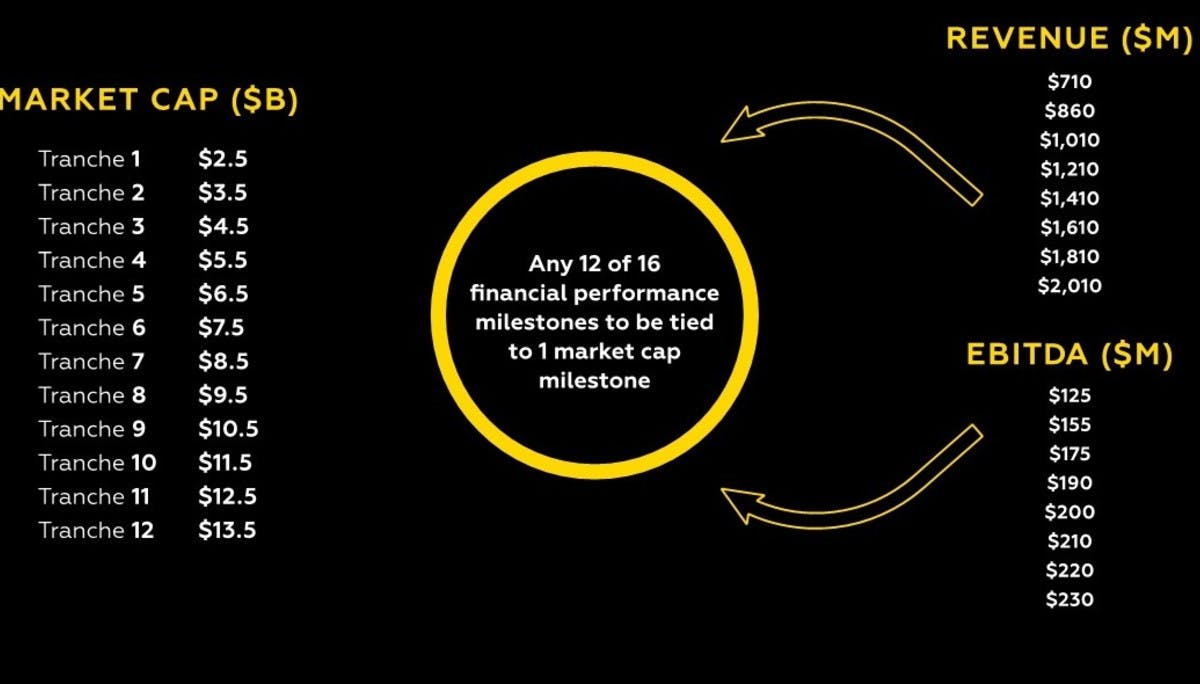 Q: How much stock can employees potentially receive under the XSPP?
All full-time U.S. employees will be granted 60 XSUs.
Eligible employees who elect into the XSPP in December 2018, may also receive up to 3x the 9-year amount of annual OTE they commit to the XSPP. This portion of OTE committed to the XSPP is comprised of RSUs units that would have been granted in January 2019 had the employee elected to receive a grant of traditional RSUs and, in some cases, base salary that would have been earned in 2019.
Q: When does the XSPP go into effect?
A: The XSPP requires formal shareholder approval of the Axon Enterprise 2019 Stock Incentive Plan (the "2019 Plan"), which will be solicited at a special meeting of shareholders, which is expected to occur in the first quarter of 2019. However, if participating beyond the base 60 XSU grant, employees must make elections on or before December 28, 2018, regardless of the shareholder vote. If shareholders do not approve the 2019 Plan at the special meeting, all XSU awards will automatically be cancelled and traditional RSUs will be granted to the employees as if they had not made an XSU election.
Q. Will there be other equity incentive plans available so that employees who do not participate in the XSPP can earn share-based compensation?
A. Yes, within the dilution confines.
Q. Will employees be able to participate in this plan and other equity incentive plans?
A. Yes, within the dilution confines and the company's compensation strategy.
Q: How is this different than the CEO Performance Award announced in February 2018?
A: Employees who participate in the XSPP will receive XSUs, which are a type of RSU award, not stock options.This is the primary difference with the CEO Performance Award. As opposed to stock options, we believe RSUs are better understood by employees and have a clearer value, and are ultimately less dilutive to shareholders and require fewer shares for shareholder approval.

Because of the number of new shares required by the XSPP, and the need for shareholder approval, the XSPP also contains guardrails on annual dilution. This provision does not apply to the CEO Performance Award.
Q: What does this mean for Axon's bottom line?
A: This approach is designed to better align employee incentives with delivering long-term shareholder value. The plan clearly substitutes short-term time-based share-based compensation and cash compensation for long-term, performance-vesting share-based compensation to deliver market competitive total pay to employees. The most aggressive performance targets are to grow the company five-fold: to a market capitalization of $13.5 billion, combined with revenue of $2 billion or Adjusted EBITDA of $230 million.
Q: Are employees likely to bet their time-based stock compensation and base salary on break-out company growth?
A: The caliber of talent that Axon is recruiting from the tech pool is often comfortable with compensation risk in return for the potential outsize returns of joining a startup. Some of Axon's investments are startup-like in that Axon is bringing new product lines and market adjacencies from 0 to 1.
Q: Did Axon gather shareholder feedback before announcing this plan?
A: Yes. Axon engaged in dialogue with the analysts, portfolio managers, and corporate governance stewards at its largest shareholders, who each provided feedback that informed the ultimate design of the plan.
Q: Why are the milestones tied to market cap rather than stock price?
A: Earlier this year, Axon's board of directors carefully considered stock price versus market cap before choosing market cap for the CEO Performance Award. At the time, the compensation committee of the board of directors believed that the ability to easily communicate the total value of the company as expressed by market cap had an advantage over stock price for the CEO, employees, and outside observers.

For the XSPP, the compensation committee gathered feedback from Axon's largest shareholders and also applied careful consideration and judgment around certain larger scale dilutive actions (e.g., employee stock-based compensation awards, acquisitions and follow-on offerings) that could increase market cap without increasing the stock price. Ultimately, the compensation committee included an anti-dilution guardrail provision into the XSPP.

Both the CEO Performance Award and the XSPP contain provisions to adjust the market cap milestones upward for acquisitions above a certain threshold.
Q: Are the milestones adjusted to account for acquisitions, new share issuances, or other material events?
A: Yes. Axon cannot acquire its way to success to achieve the milestones and cannot purely reach the market cap milestones by issuing more shares. If Axon exceeds certain dilution thresholds, market capitalization for determining if XSPP goals are met is calculated using the lower share count as defined in the dilution guardrail.

Acquisitions: Both revenue and Adjusted EBITDA are Adjusted upward to account for the revenue and Adjusted EBITDA contributions of acquisitions above pre-defined thresholds. Also, acquisitions at enterprise values higher than $50 million shift the market cap milestones upward by the amount of the acquisition. These milestones adjust for both the CEO Performance Award and the XSPP.

New share issuances: The XSPP contains one additional layer of protection against dilution that is not caused by the CEO Performance Award and not caused by an adjustment to a market capitalization milestone triggered by an acquisition. New shares issued for any reason other than the CEO Performance Award — including for the share-based compensation associated with this plan and all other compensation plans and/or for capital raises — may not exceed a 3% annual increase (calculated on a daily basis) over the duration of the XSPP. If actual total shares outstanding exceed this guardrail, then the lower share count defined in the guardrail is used to calculate market capitalization.

These provisions drive alignment among management, employees and shareholders.
Q. Does Axon think that shareholders will approve this plan?
A. Axon strongly believes this plan serves the interest of all stakeholders, including customers, employees and shareholders. The XSPP design was informed by shareholder input and contains all the key aspects of a broad-based employee stock-based compensation structure that shareholders desire, including:
performance-based vesting,
a mandatory holding period of 2.5 years after the XSUs vest,
company alignment among executives and all employees,
a broad-based plan rather than one concentrated only among senior management,
a heavy focus on long-term value creation through clearly defined revenue, Adjusted EBITDA and market cap milestones,
the clear substitute of a new type of long-term performance restricted stock unit in exchange for shorter-term time-based stock compensation and cash compensation in driving market-competitive total pay, and
protective guardrails regarding acquisitions and dilution.
The plan also does not include the types of items that typically cause investors to vote against these types of plans. For example, the plan has no evergreen provision for automatic share replenishment, nor does it allow for the repricing of options without shareholder approval.

Plan participants are highly incentivized to deliver significant revenue and Adjusted EBITDA growth together with significant growth in market capitalization, and share in the downside risk of shareholders.
Q. What is Axon's philosophy on corporate governance?
A. Maintaining strong relationships with shareholders, as well as exhibiting good corporate governance, is a priority for Axon's management and board of directors. To further demonstrate Axon's commitment to strong corporate governance, and to further align the interests of our board of directors and executive officers with the interests of our shareholders, Axon's board is also implementing stock ownership and board tenure guidelines as follows:
Directors should hold a minimum of 8,000 Shares (Shares being defined as Axon common stock plus vested and unvested Axon stock options and restricted stock units), after receiving sufficient grants to add up to 8,000 Shares.
Named Executive Officers should hold a minimum of 50,000 Shares (Shares being defined as Axon common stock plus vested and unvested Axon stock options and restricted stock units, including unvested performance-based restricted stock units), after receiving sufficient grants to add up to 50,000 Shares.
Board Tenure. Each non-Executive Director of the Company shall submit a letter of resignation from the board of directors upon reaching 20 continuous years of service as a Director of the Company or age 72, whichever occurs first, and each year thereafter, which letter of resignation may be accepted or rejected by the board of directors in its sole discretion.
Q. Is there a cap on the number of shares that will be made available under the 2019 Plan?
A. The cap will be set by the amount outlined in the definitive proxy, which will be filed with the SEC. There's also a cap on employee participation by on-target earnings level.
Q. What will be the total potential dilution from this plan and any additional equity plans offered over the life of this plan?
A. The XSPP contains an anti-dilution provision that disincentivizes Axon from organically growing the number of shares outstanding by more than 3% in any given year. The anti-dilution provision limits the number of shares that Axon can create for all share-based compensation plans, including this one, as well as for tuck-in acquisitions and capital raises.
Q. Will employees who join closer to the end of the plan be granted other equity incentives?
A. We will make that determination on a case by case basis.
Q. Are there ways to tailor this plan to make it attractive for employees who do not wish to stay at Axon long-term?
A. No. Employees still get cash compensation, which includes salary and bonus, plus potentially any time-based RSUs. A major purpose of this particular plan is its long-term value creation for shareholders and employees, as well as long-term retention.
Q: Where can I learn more about the plan?
A: The press release announcing the plan is here. We are also filing a preliminary proxy document with the SEC, which is available at investor.axon.com or at SEC.gov under the stock symbol, AXON.