Smart Probe Release
Bulletin 20.0-06 | Effective 12-26-2016
Print this bulletin
Background: As part of its continuing commitment to excellence, Axon is pleased to announce the release of the Smart Probe (SP).

This enhanced probe incorporates several changes over the current probe design; all of which are designed to improve overall probe effectiveness.
These improvements include:
Better clothing penetration
Increased clothing retention
Better clothing compression
The SP is still suitable for removal in the field (subject to agency policy and local medical protocol). This short video discusses removal of the SP: Smart Probe Removal Video.
In addition, Axon medical advisors have produced the SP vs XP Wound Study Summary designed to illustrate the safety of the SP. Please review this document: Smart Probe Wound Study Summary.
Smart Probes will be available for purchase in the X2 Smart Cartridges in January 2017.
Smart Probe production and sale for the X26/X26P cartridges will occur later in 2017.
All cartridges containing the new SP are laser engraved with "SP" near the cartridge serial number in an effort to easily identify cartridges containing the new probe design.
Please direct any training questions to Axon at training@axon.com.
Sales inquiries should be directed to your sales representative or sales@axon.com.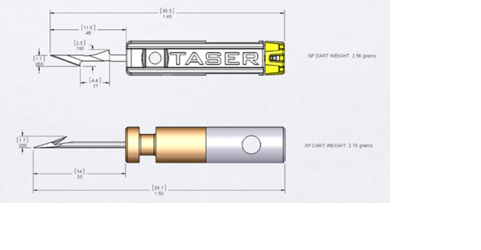 Back to resources and bulletins