Tools for 21st century policing
Build bridges between the community and the police with data-driven technology that improves transparency, trust, and communication
Ongoing feedback helps cultivate community trust
POST-CONTACT SURVEYS
Automatically send callers short surveys about agency interactions High response rates from automated surveys help you optimize community engagement
PUBLIC SURVEYS
Engage community members on social media and agency websites Deploy at events like National Night Out and Coffee with a Cop Easily satisfy CALEA accreditation requirements
OFFICER SURVEYS
Collect candid feedback to reduce burnout and support officer wellness All surveys are confidential and independently managed
RESULTS
Quickly receive key statistics on public-police contact and community sentiment Improve trainings, policies, and procedures while supporting and retaining officers
Fairfax County Police Department
My90 is working with the Fairfax County Police Department to engage the public, collect feedback, and build trust following service calls.
"My90 is a great way to engage with our community to better understand how the public feels about interactions with our agency. Since deploying a trial of My90, we have collected over 3,000 responses in just over 2 months. We have the opportunity to review these results to gain valuable feedback on an ongoing basis from people we have just served."
- Chief Kevin Davis, Fairfax County Police Department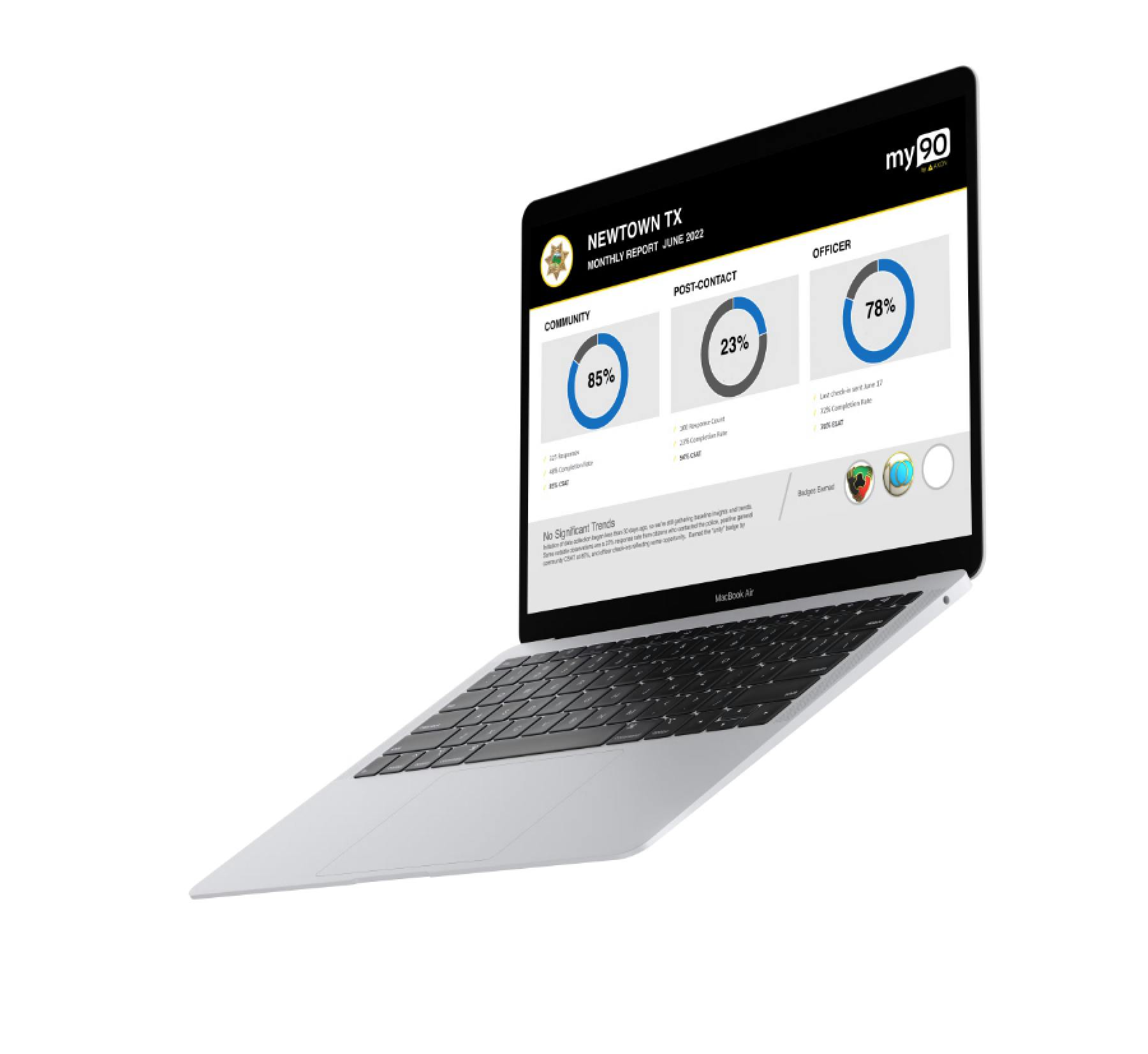 How My90 data can help
RAPID RESPONSE
Immediately engage stakeholders in meaningful, measurable ways. Roll out confidential surveys to community members and officers within 72 hours.
BUILD BRIDGES
Incorporate data, engagement, and transparency on an ongoing basis. Post-contact data collection and baseline polls help you hear from officers and residents
PROTECT PRIVACY
My90 de-identifies survey responses so that community members and officers alike are willing to share honest feedback about sensitive issues.
SHARE RESULTS
Publish de-identified survey results to build trust with the public, create a dialogue, and measure progress over time.
TAKE ACTION
Use surveys that generate constructive feedback and actionable insights. Identify specific ways to improve trust, safety, and equity when police contact occurs.
AMPLIFY OUTREACH
Leverage technology and data science to complement your existing strategies and deepen your impact.
We are excited to invest in technology that fosters trust between public safety officers and the communities they are sworn to protect