The 7 Most Important Features of a DEMS
These features simplify digital evidence management from capture to courtroom
Mar 27, 2023

Law enforcement handles an enormous volume of evidence daily, and that volume has only grown in the digital age. Storing and maintaining digital evidence can get overwhelming, but leveraging modern solutions like a digital evidence management system (DEMS) can help ease that burden. These systems make it faster and easier to store, organize, access and share pertinent evidence securely. That makes it easier for law enforcement, from police officers to prosecutors, to do their jobs.
Many DEMS are outfitted with an expansive suite of features, some of which are more important than others. Here are the seven most important features according to on-the-job officials from across the US.
What is a DEMS?
Digital evidence management systems are software suites that serve as a hub where police officers, attorneys, security professionals and other investigators can deposit, collect and organize digital evidence such as surveillance footage or audio recordings. They are expansive, secure and indexed, making it safer and easier to locate evidence after it's filed, enabling smoother collaboration with prosecutors and other elements of the criminal justice system. DEMS also help maintain the chain of custody, which officers who testify in court say they're challenged on in one in six cases.
That's according to a survey Axon conducted of 919 law enforcement professionals who shared their views on the state of digital evidence in 2023. We also asked them what they thought were the most important features of a DEMS. Keep reading to learn the top seven DEMS features they highlighted as the most important in their day-to-day responsibilities. For more of their combined insight, read the full report.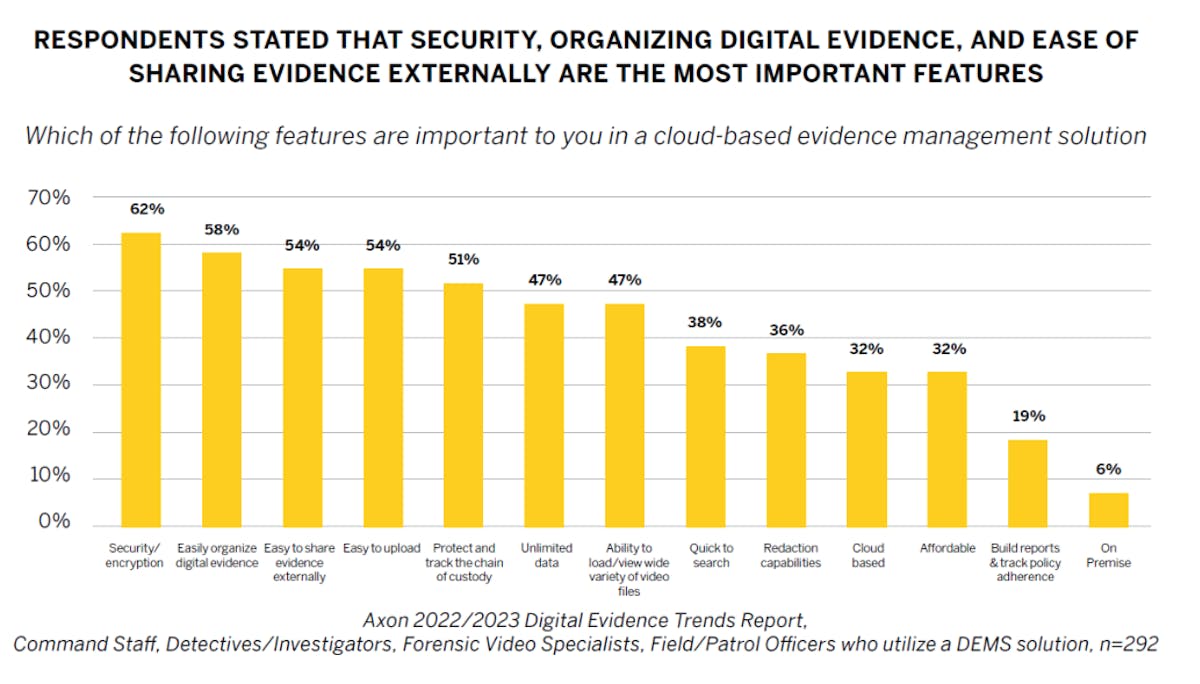 What are the most important DEMS features?
Strong security and encryption
When asked for the single most crucial feature in a DEMS, more survey respondents named security and encryption than any other option. It's easy to see why: If evidence should ever be tampered with, it can lose its weight in court and scuttle a case. Worse, without proper security, bad actors could access the evidence repository and move or even delete evidence at will. Preventing that kind of breach is paramount to a functioning justice system. Encryption adds another layer of protection by obscuring evidence to those who access the system when they shouldn't.
Axon cloud is highly secure. In fact, Axon recently achieved high impact status from the Federal Risk and Authorization Management Program (FedRAMP) Joint Authorization Board (JAB) for our cloud-based Software as a Service (SaaS) solutions. This new certification allows Axon's government customers to store the most sensitive, un-classified data handled by federal civilian agencies.
Easy organizing tools
Digital organization may seem simpler than the physical filing systems of old, but it introduces new challenges as it holds a volume of evidence much greater than was previously possible. That's why keeping digital evidence organized is so important — evidence is useless if obtuse organizing keeps it hidden. The easier it is for officers to organize evidence when they collect it,  the easier it is for anyone to retrieve it when it's needed.
Axon Evidence aids in organizing by using automatic tagging that helps standardize and speed up the organizing process. With everything uniformly tagged according to the same principles, Evidence's powerful one-click can call forth whatever evidence is needed using basic information such as the officer's name or the incident location. 
Simple external sharing
Keeping evidence away from unwanted eyes preserves the sanctity of the justice process, but there are key moments when evidence must move from police possession; officers need to be able to share documents, photos, transcriptions, video and audio files with prosecutors or other legal officials quickly and simply. At the same time, there must be limits on what's shared to prevent the mistreatment of evidence.
Axon Evidence can generate secure links for police to share with collaborators, bringing them directly to the relevant piece of evidence. It also includes the Redaction Assistant, which uses artificial intelligence to identify and obscure common redaction targets such as faces to speed up the sharing process.
Fast evidence upload
Efficiency is vital to the evidence cataloging process. Officers have enough demands on their time. They don't need a DEMS that slows them down when uploading evidence. Deadlines in the legal process must be hit, and slow evidence uploads can make that a pain. Plus, the faster and simpler the upload process, the less likely officers are to miss key evidence or make a mistake.
Axon Evidence's Upload XT Version 2 lets users upload large amounts of data in any format directly from their phone or desktop. It has a high file size limit, uploads quickly, and maintains the folder structure of the uploaded materials. Users can also set an automatic sync schedule to ensure selected hard drives and desktop folders are continuously uploading to the cloud — even after they log out.
Chain of custody protection
Maintaining the chain of custody is vital during investigations. From the moment evidence is collected to the moment it appears in court, every piece of evidence must have its every movement tracked. A good DEMS automatically creates and maintains that chain of custody to ensure nothing untoward takes place, whether that be illegal tampering or simple misplacement.
The survey we mentioned earlier indicated that officers who testify in court are challenged on chain of custody one out of every six cases, which is another reason having a clear audit trail is imperative. As soon as a piece of evidence arrives in the system, Axon Evidence generates and automatically updates an audit trail for it. Every action taken by any user that affects the evidence in question is recorded, ensuring its authenticity remains above question.
Unlimited storage
Digital evidence adds up quickly on your storage drive, particularly video files with high resolutions and framerates. Maintaining extensive evidence records over a long period of time means testing the limits of your evidence storage capacity. That's why law enforcement officers say unlimited storage of evidence is so important. It obviates the need for storage gymnastics or multiple storage devices, minimizing the risk of losing evidence or deleting the wrong files when running low on space. For example, officers may not realize some piece of digital evidence is still in use on a case they're not working and delete it to make space for the materials they've just brought in. Unlimited storage fixes that problem before it arises.
Axon Evidence's cloud-based storage solution makes capacity concerns a thing of the past by providing limitless, centralized digital storage with our Unlimited Storage plans.
Wide-ranging video file compatibility
There are plenty of video file types on the market, and different sources of video evidence will use different options. Body-worn cameras, closed-circuit television, interview rooms — all are liable to use their own file formats. A DEMS that can't handle all those file types can force officers to store materials across multiple locations, making their organization harder to maintain and the materials themselves harder to find.
Axon Evidence accepts a wide range of video file types to make sure all your digital evidence fits under one virtual roof. BWC footage, in-camera footage, and even audio files, photographs and documents can co-exist on the Axon Evidence platform thanks to support for third-party video. Videos not supported by Evidence are automatically converted to a compatible file type while retaining the original format, and a message above the video makes note of the process for future reference.
Dig deeper with Axon Evidence
While there are many DEMS options on the market, few offer the security, organization and flexibility of Axon Evidence. Our system can store a wide range of file types in the cloud, offering limitless, centralized digital storage. Automatic tagging and the ability to upload anywhere makes intake faster and easier, and CJIS-compliant security controls and automatic chain of custody audit generation ensure no one but the proper personnel access evidence. If you're ready to learn more about how Axon Evidence can help your agency, get in touch.
The Delta Logo, the Axon & Design Logo, Axon, Axon VR, TASER 7, and TASER are trademarks of Axon Enterprise, Inc., some of which are registered in the US and other countries. All other trademarks are the property of their respective owners. © 2023 Axon Enterprise, Inc.