Axon Board Member, Caitlin Kalinowski Talks Tech and VR
Jul 20, 2021
Q&A With Caitlin Kalinowski
Tell us about your background?
I've been interested in how things are put together for as long as I can remember. And to understand the inner workings of machinery meant I would take things apart, sometimes much to my parents' chagrin. I credit my stepfather for helping me focus on engineering. He was an experimental physicist at Stanford, and I was privy to a lot of his stories about his professional life in and around the university campus (including riding his BMW bike in the area), so years before I enrolled at Stanford, I was already interested in matriculating there. I went on to buy a motorcycle, study STEM, and graduated with my BS in Engineering in 2007. I later worked for Apple, helping design the MacBook Air and MacBook Pro, and went on to leadership roles in the virtual reality domain.

Why did you decide to join Axon's Board of Directors?
Axon is utilizing VR training modules to teach police officers how to deescalate different situations. I decided to join Axon because they are at the crossroads of several different subjects that I care about: policing, community engagement, and using VR to make the world a better place. Axon needed expertise in VR technology and where things are headed, in addition to hardware experience, to help them with their future products. That made a really good mix for me – I could take my background in understanding and building hardware and my years of building VR to help Axon further the usefulness of VR training.

What does 'tech for good' mean to you?
Tech for good is applying technology, VR for example, in ways that have measurable, beneficial impacts on people and the world. My interest began with a curiosity in how things were put together, to know how they worked. As I started my career, that interest developed into a desire to use my knowledge and experience in ways that would benefit our lives. It's not about advancing technology for its own sake. The real challenge – and my real goal – is to create the tools that will improve our lives, the environment, and the world as a whole.

What VR Modules did you find the most impactful or surprising and why?
You've heard some version of the phrase, "what you know you don't know, and what you don't know you don't know?" Well, I realized that much of what Axon's modules address is not about stopping criminals. First responders must learn to recognize and successfully deal with a range of mental and psychological conditions. Axon's current scenarios cover depression, schizophrenia, dementia, and so on. The goal of these modules isn't about "catching the bad guy" but rather work to ensure the safety of the subject as well as the officer. Knowing that Axon is recognizing the wider realities that law enforcement faces really encourages me to work harder to design and refine VR tools that will help solve these societal issues.

Can you elaborate on '6 degrees of freedom'?
Basically, 6 degrees of freedom is the conversion of real-world movement into movement within a virtual space. Every possible head movement that can be made is on one of these 6 degrees. The VR of today accomplishes movement through interfaces such as headsets and hand controllers that track user movement in either 3- or 6- degrees. It's a fundamental concept that must be understood in order to make interactions within these virtual spaces as naturalistic as possible. If you want to pursue a career in VR, this concept is important to understand.

How can working on VR at Axon advance my tech career?
Today, Axon is developing VR training for law enforcement, but the tech has so many directions it can go beyond this. Think of complex processes that must be remembered and involve physical movement – and you can apply that to many situations. For example, aircraft mechanics would be able to, in a step-by-step process, learn how to service difficult and complex parts of aircraft. Axon provides you the experience of applying real-world situations to VR, which is going to be happening more and more in the future. With the experience you gain at Axon, you can start to imagine the potential for VR technology in so many ways. Really, we're just on the ground floor – engineers are going to push the boundaries of VR further and further.

What do Axon's VR engineering roles look like?
Axon is applying VR in a very specific, yet immensely useful way that not only has positive implications for first responders but has a much greater impact on the communities they serve. Better trained officers mean we get more positive outcomes for more kinds of situations. In short, officers and civilians will be safer, and therefore it will help protect lives. Being an engineer at Axon means you get to be part of a team that's pioneering these applications in a way that can make VR more than a device for entertainment or convenience – you're transforming VR into an essential, practical tool for training that will only expand into other professions.

Why are diversity, equity, inclusion important in the VR tech space?
More than important, it's essential. The more diversity among people you have, the more diversity in ideas and approaches you get. And that is the best catalyst for innovation that leads to real advancements. Right now, women make up only 28% of the STEM workforce in the U.S. The percentage of graduates meeting the ACT College Readiness Benchmarks in math and English is at a 15-year low – America is falling behind. If we're going to give the next generation of STEM youth the best start, then we need to implement some real change – stop focusing on the gaps and start concentrating on diversity advocacy and change within our educational system. They're going to be our greatest advantage within these fields, including VR.


To learn more about open positions on Axon's VR team, visit: https://www.axon.com/careers/board?department=4038010003

Apple, MacBook Air and MacBook Pro are trademarks of Apple, Inc. and BMW is a trademark of Bayerische Motoren Werke Aktiengesellschaft.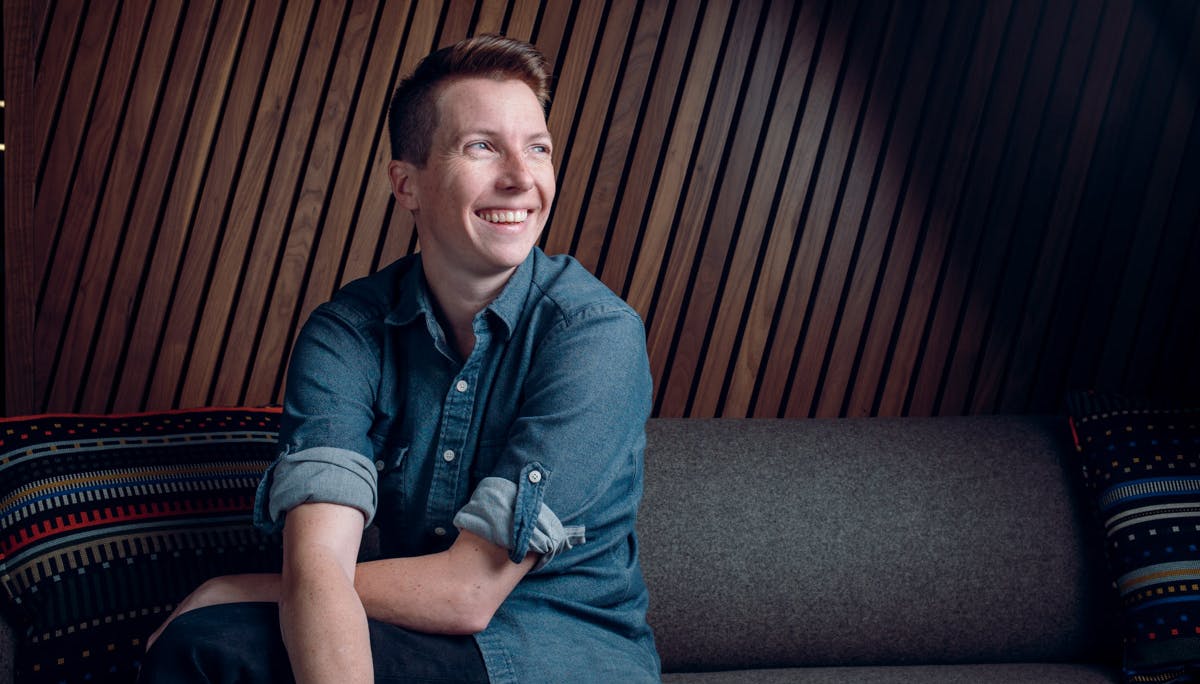 Caitlin Kalinowski
Axon Board of Directors
Caitlin Kalinowski is the Head of VR Hardware for the Augmented Reality/Virtual Reality Division at Facebook and is responsible for the design and engineering of Oculus's award-winning VR devices. A recognized leader in virtual reality and product design, she serves on the board of Axon Enterprise and is a member of the strategic board for Lesbians Who Tech & Allies, the world's largest LGBTQ technical organization. Prior to joining Facebook, from 2007 to 2013 Ms. Kalinowski was a Product Design Engineer for Apple, where she led technical teams for the Mac Pro and MacBook Air and was part of the original Unibody MacBook Pro team. From 2005 to 2007, Ms. Kalinowski was a Product Design Engineer for OQO. She holds a B.S. degree in Mechanical Engineering from Stanford University.