Axon then and now - a glimpse into our journey
Aug 11, 2023
This year marks Axon's 30th anniversary. To commemorate this milestone year, we are taking a trip down memory lane with rephotography. We've recreated old photos in present-day to create a visual journey of some key moments in our history. These images transport us into another time, bridging the gap between our past and present as we look to our future.

Since Axon's inception, our team recognized the importance of protecting life — everywhere. We've always been a global company at heart, from our early days as TASER International to our expansion into public safety markets around the world. We have come a long way in 30 years, and we are grateful for the support of our customers, employees, and partners for being along for the ride. We look forward to all that the next 30 years will bring!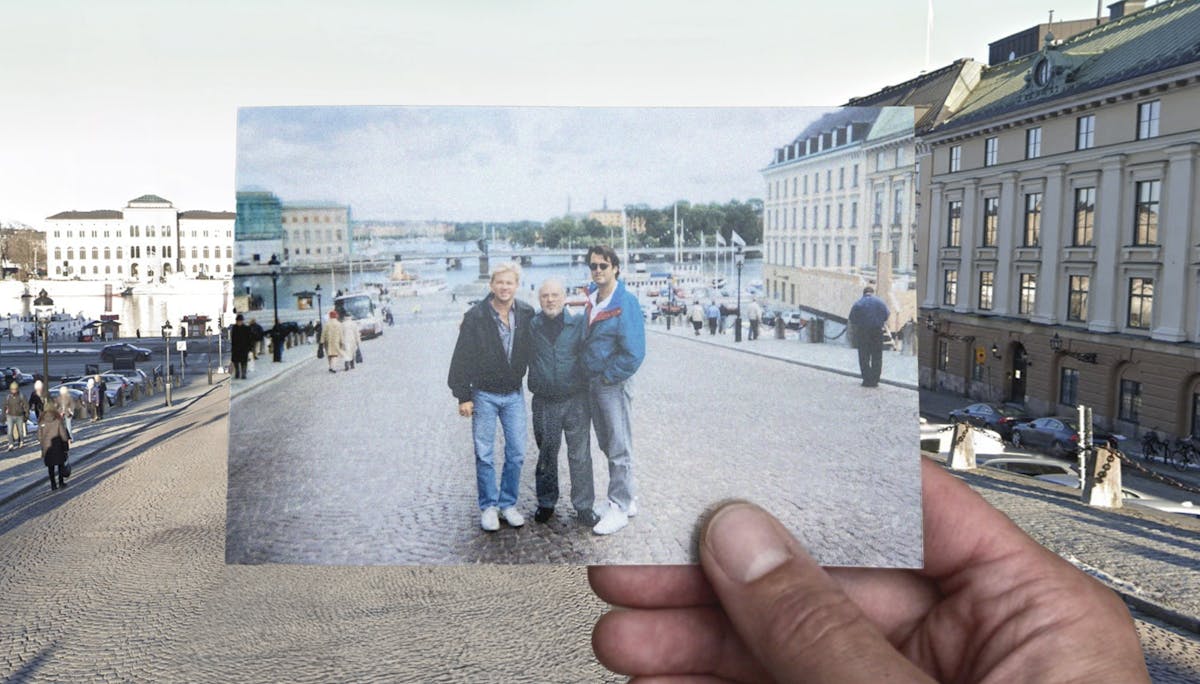 (From left to right) Steve Tuttle, Malcolm Sherman, and Rick Smith, Stockholm, Sweden
Three of the five startup team members of Axon, Steve, Malcolm, and Rick, went to a security tradeshow in Stockholm, Sweden in 1995 to demo the AIR TASER 34000. In 1995, we were just getting started with our vision to protect life with less-lethal devices. European expansion was just a pipe dream then. We now serve customers across the globe. Looking to the future, we are honored to have the opportunity to grow our global presence through partnership with public safety agencies around the world who share our mission. This time, it's our Axon Roadshow hitting the road as it expands to seven new countries in the fall of 2023. There, we'll meet with public safety members to demo the future of public safety technology, including a TASER 10 firing range, an Axon Air Flight Center, a Virtual Reality training simulation, and more!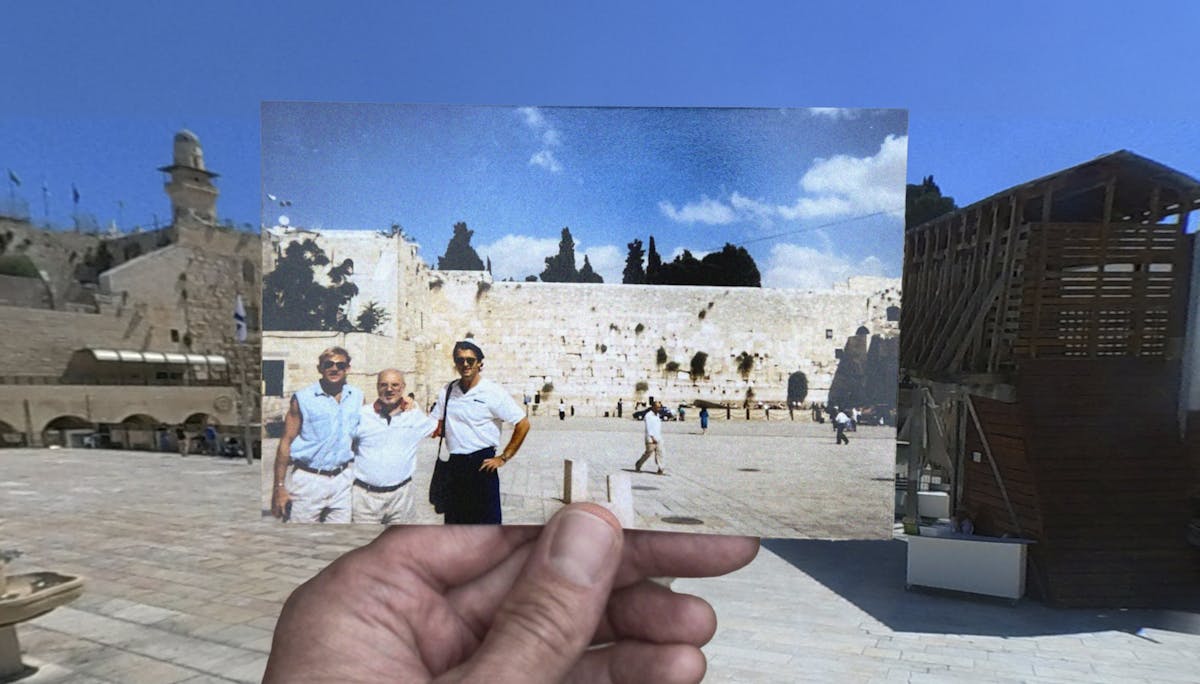 (From left to right) Steve Tuttle, Malcom Sherman, Rick Smith, Eliat Israel
In 1995, Rick, Steve, and Malcolm went to see the Western Wall and Church of the Holy Sepulchre in Jerusalem after attending a security trade show in Eilat, Israel. Today, we continue our efforts to protect life across the globe. Rick meets with public safety members around the world to better understand localized needs as we collaborate on solutions, and we have global teams representing Axon in the Middle East, Asia, Europe, Americas, Africa, and beyond. We also have over 500 employees outside of the US, and currently have over 30 open positions across Europe, Asia, the Americas, and Asia-Pacific. We have been working with global customers to solve region-specific public safety challenges for over a decade now. From providing better use-of force options in South America, to accelerating justice to improve cistizen's lives in Australia, we continue to work with our customers across the globe to drive safer and more transparent outcomes.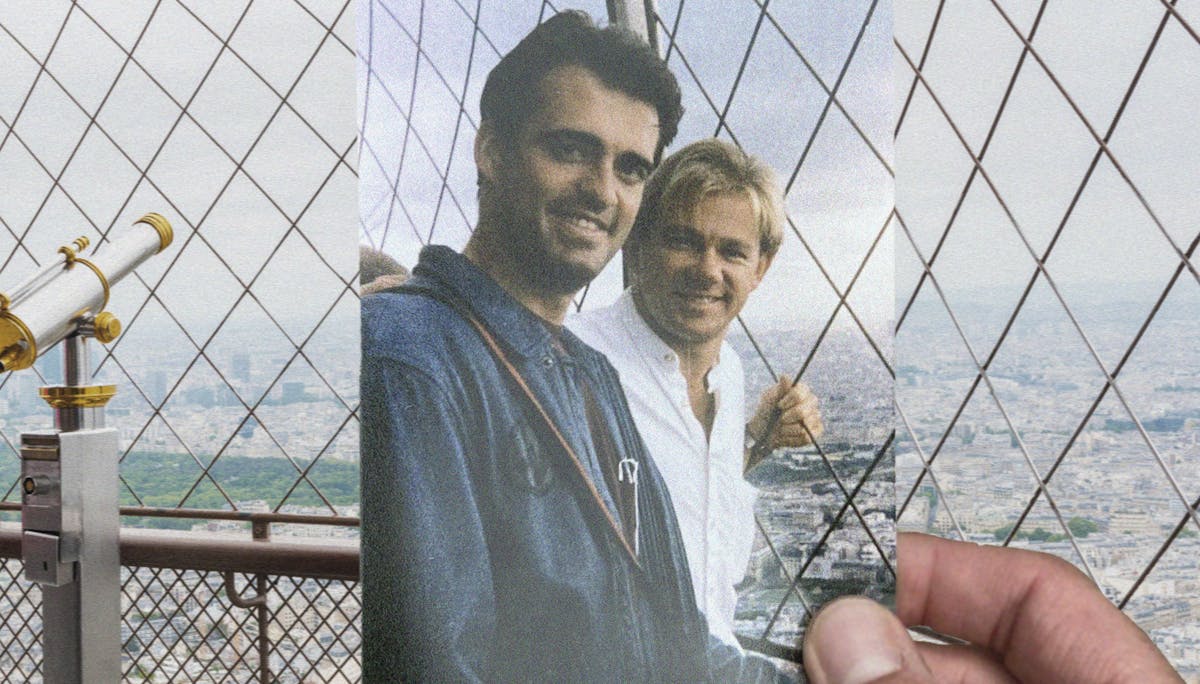 (From left to right) Rick Smith, Steve Tuttle, at the top of the Eiffel Tower in Paris, France
Axon attended our first international tradeshow in Paris, France in 1995. Our trade show presence has grown over the years, as we've valued the opportunity to meet with and learn from public safety members globally. Today, we organize a multitude of international events, including Axon Innovate UK, Axon Innovate Canada, and Axon Innovate Australia, as well as a series of Axon Tech Summits, including the inaugural tech summit this year in Brazil. We also participate in global conferences like Milipol Paris, the leading event for homeland security — at this year's conference, we will demonstrate the power of Axon's technology and software.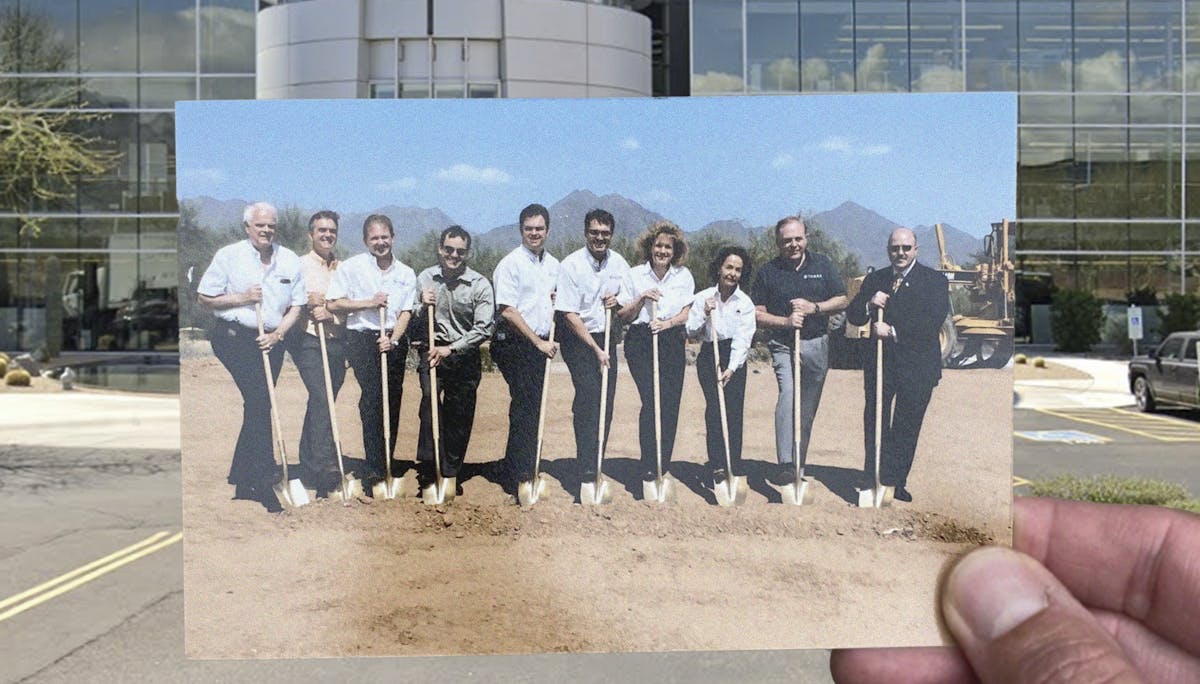 (From left to right) Phil Smith, Former Chairman of the Board; Mark Kroll, PhD, Board Member; Steve Tuttle, Principal, TASER; Matthew McBrady, Board Member; Tom Smith, Former Chairman of the Board; Rick Smith, CEO + Founder; Kathy Hanrahan, Former President; Mary Manross, Scottsdale Mayor; Bruce Culver, Former Board Member; and Bernard Kerik, Former Police Commissioner, NYPD, Former Board Member
On April 3, 2004, we broke ground on our new Axon headquarters in Scottsdale, Arizona. Overlooking the McDowell Mountains, our headquarters serves as the meeting ground for teams across the product life cycle — from product design, engineering, and in-house manufacturing to sales, customer support, finance and more. Featuring science fiction-inspired designs throughout the building, our headquarters has been a futuristic staple in the desert. Thirty years later, we now have offices in Seattle, Ho Chi Minh City, Sydney, Melbourne, Mumbai, New Delhi, Ontario, Rome, Brussels, Frankfurt, Madrid, London, Daventry, Amsterdam, and Tampere. As we grow in our mission to protect life, we are excited to continue expanding our footprint and our teams.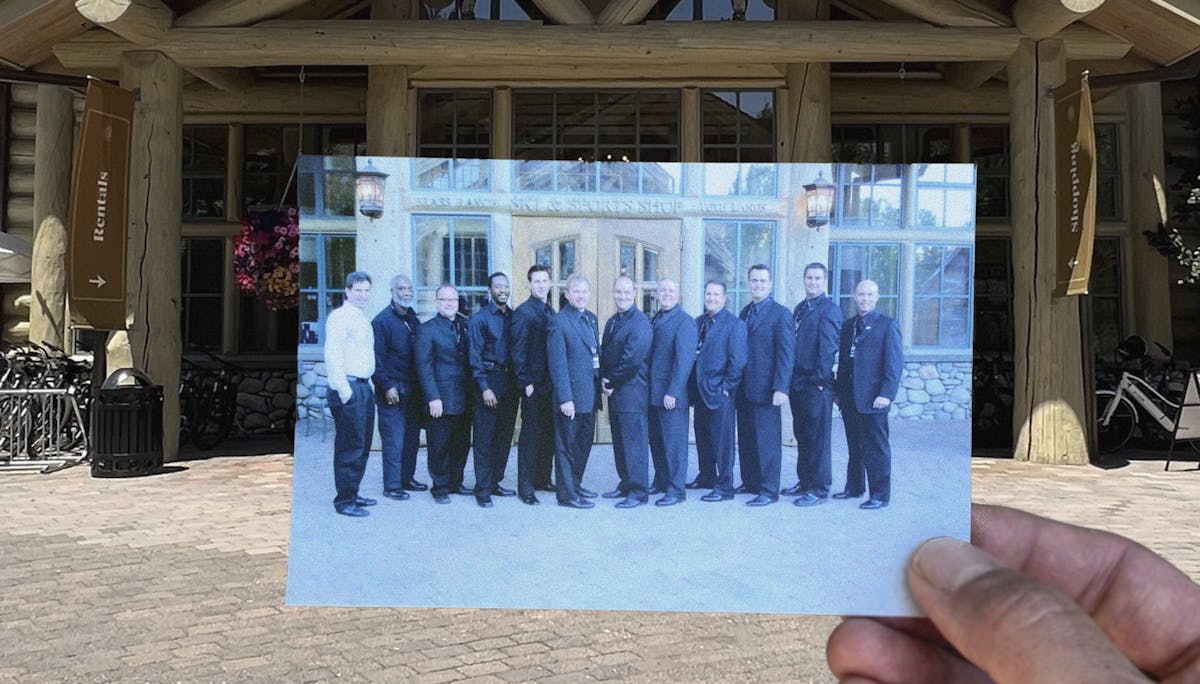 In 2008, the same year we launched Axon Evidence, Axon attended the Major Cities Chiefs Association (MCCA) annual conference in Sun Valley, Idaho. To put the time that has passed into perspective, Axon Evidence was then a body-worn video ingestion and review platform. It has since become a massive ecosystem of connected software tools including redaction, transcription, sharing, and more, that ingests, organizes, unifies, and shares all types of digital evidence. We've been honored to grow our relationship with the MCCA and attend their annual conferences and meetings to discuss challenges and solutions in policing. We look forward to our continued strategic partnership with their organization.
The world has changed significantly since Axon Enterprise was founded, but the need for companies, individuals, and technology solutions dedicated to making the world a safer place has only grown. Axon was founded with a goal to protect life. In the span of just three decades, first responders, Rick Smith, and thousands of individuals at Axon have revolutionized public safety tools and technology. In the coming decades, a Moonshot goal to reduce gun-related deaths is just the start of what Axon aims to accomplish.