Building an Axon Community for Developers
Jan 11, 2021

We know that while customer service teams are crucial to onboarding Axon products and platforms, and documentation provides a critical foundation for platform development, often times developers aren't able to get the nitty gritty details of what they need in order to fully integrate the Axon system.

That's why we're announcing the launch of the Axon Developer Community forum, designed for developers building tools and experiences using our platform. We wanted to create a space that feels familiar, but one that deeply and uniquely connects our developer community to each other and to essential documentation and other support tools.

The forum is designed for developers to ask and answer questions relating to apps and app development in conjunction with Axon products and services. We believe that developers understand the Axon platform as well as anybody and we want to foster and encourage a community where people can utilize their acquired expertise and help support one another overcome mutual challenges.

The forum is available for use by anyone with a MyAxon account, and can be easily enabled by an agency admin as part of the MyAxon experience. The agency admin can also opt to accept the Terms of Use on behalf of all the agency members from the "My Agency" page to further streamline the initial experience.

Here's how the platform will work: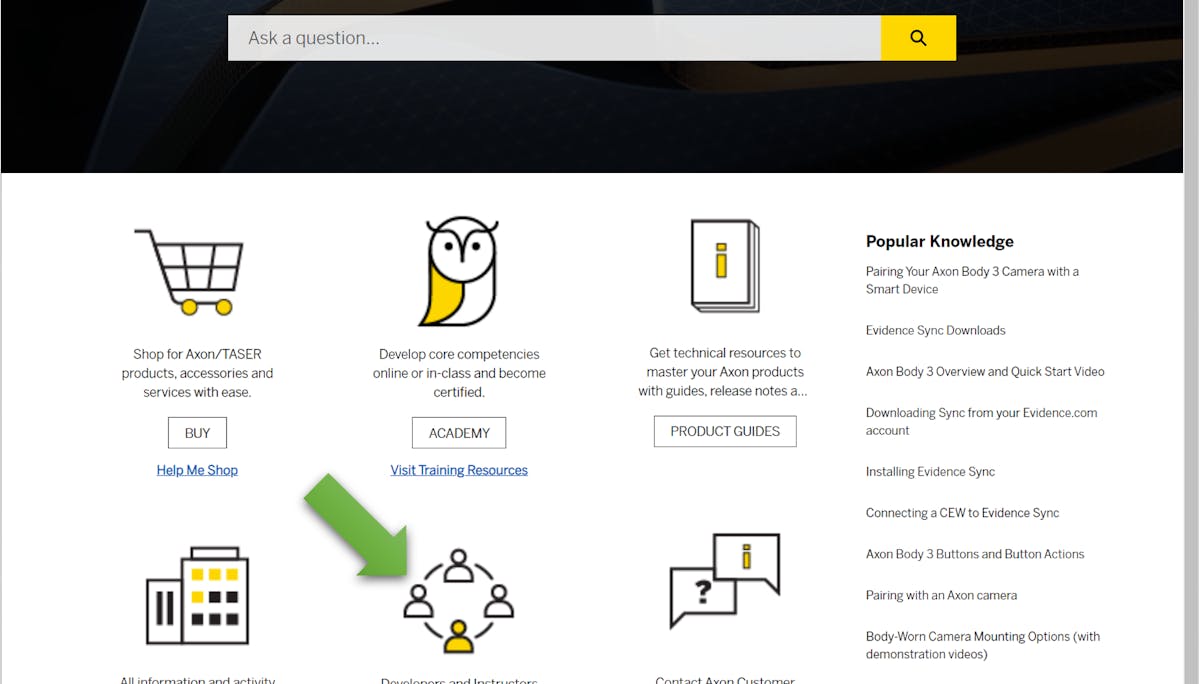 Landing Page
When arriving at the Developer Community forum you will find useful features like a search bar which will allow you to search for questions similar to your own, as well as a feed of the most recently asked questions. Those inclined to answer questions will be able to respond to questions, or create a new question. We also provide a brief community profile overview, including the Community Policies and a link to contact the community owner. Below, modules provide access to files uploaded by members and an ability to search for members. Key among those files is the Partner API Manual. That's right, from this point on developers with community access will be able to retrieve the latest releases of the Partner API Manual directly from the community! In the future we hope to expand the resources available with additional collateral and material.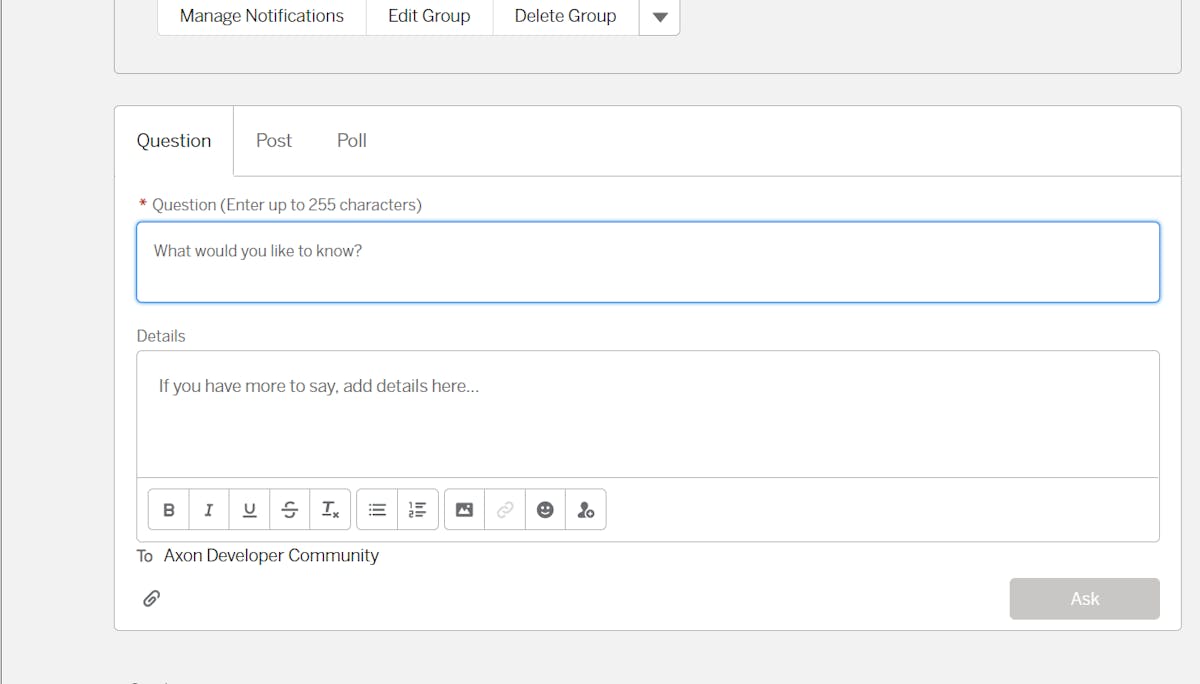 Points & Badging
As valued members of the Developer Community we want to recognize the contribution you've made helping other developers and growing our community. This will be done via a points and badging system described here. Your community profile displays points you have received, earned through various interactions completed such as, upvoting answers & posts, providing your own answers to posts and having one of your answers selected as the correct answer. Points will accrue and help increase your level. Over time, badges (which are visible tokens that may be awarded by the community moderators) will be made available to recognize special achievements made by members.

Creating a Question
Creating a question is easy! First, click on the "Question" tab. From here, all you need to do is enter your question. To receive the best answer, provide clear context regarding the API you are asking about (if known), then fill out your question and your description. One cool feature is that all questions support markdown, meaning that you can style your question content for easy readability. Content can also be directed to specific users.

Viewing & Answering Questions
Answering questions is similar to creating a question. You simply open the question you want to answer, type your response and click "Post Answer". People have the ability to upvote your answer which may result in its higher ranking over other answers. If the question creator is happy with your answer they (or the moderator) can select it as the best answer. If a better one comes along the next day or week, they can update that selection accordingly.

The Axon Developer Community forum is now open to Axon Platform Developers. We welcome and encourage all developers to explore the forum, and help grow it into a resource that helps support everyone. Start asking, answering questions and be recognized for your efforts.

New to MyAxon?
MyAxon is a new one-stop portal experience providing online access to your customer support resources such as how-to articles, product guides, firmware updates, training, support cases, account management information, training and much more. We are working hard to consolidate and enhance all of these support and service resources into a single easy to use platform with many more self-service features coming over the next year. Learn more HERE.