Creating a Legacy from the Start: Spotlight on Axon Employees Faith and Chiara
Jan 25, 2022
One of Axon's differentiators is an engaged employee workforce. A motivated and committed team creates a culture of inclusion, innovation and personal development. It also has a positive impact on the bottom line. A recent study by Gallup illustrated that highly engaged teams show higher profitability, lower absenteeism and less turnover. Engaged employees show up every day with passion, purpose, presence and energy. At Axon, we are proud to have employees that step up as leaders and don't feel constrained to their job description. We recognize the value of and invest in these employees as future leaders of our company.

Two of those employees are brand new to Axon and already making an impact. Faith Young joined Axon in July 2021, and Chiara Cooper came on board in September 2021.

Earlier this month, Faith and Chiara helped to lead Axon's 2022 Martin Luther King Jr. Day efforts, including a sponsorship of Scottsdale's Community Celebrating Diversity organization and a walk team for Phoenix's MLK Jr. Day Parade. We sat down with Faith and Chiara after they attended AfroTech, one of the largest multicultural tech conferences in the US focused on building a strong Black community in tech.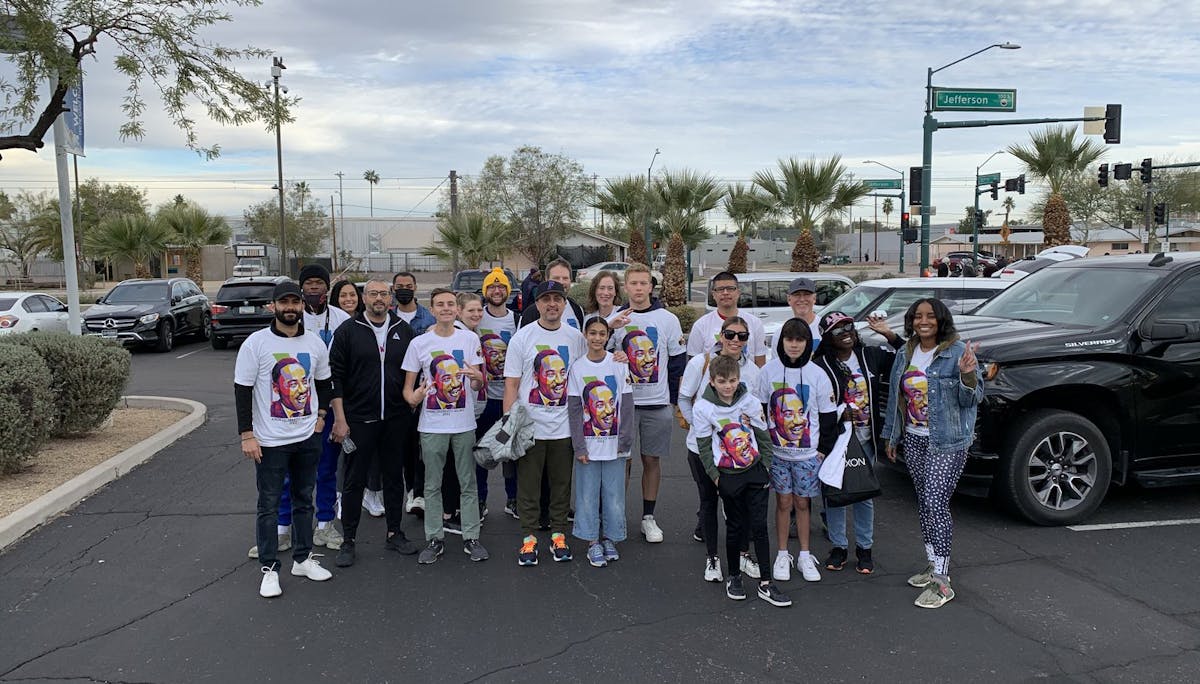 Q: What is your role at Axon?
A: Faith: I'm a Quality Assurance Data Analyst. That's a fun way to say that I help the organization make better business decisions using data. I use programming, statistics and math to make strategic recommendations to Axon leadership. I joined Axon because I recognized it was a company doing the work to make societal change on a global scale. I'm also involved in Mosaic, Axon's Affinity Group for Black employees and allies.
A: Chiara: I'm part of Axon's Leadership Development Program, which allows participants to rotate through different departments. Currently, I'm on the Digital Marketing team. I've had the opportunity to redesign Axon's website for new product launches, design ads and website campaigns and assist with event marketing for Accelerate, Axon's global thought leadership symposium for public safety professionals. Lastly, I am the Belonging and Impact Manager for Mosaic. I've only been at Axon for 3 months, but I feel included and valuable. I love that I've had the chance to become so involved in Mosaic to support my Black colleagues and our allies.

Q: How does Axon's workplace culture differ from your previous jobs?
A: Faith: I've worked in supply chain roles for some global brands. My previous employers have been around a long time and have unspoken, established cultures that don't allow for flexibility or contribution. There weren't a lot of young professionals in my field, so it was easy to feel very junior. At Axon, there are people of all ages and backgrounds. I appreciate the open door policy from my manager and the broader leadership team. There's excellent communication, which lets everyone relate to one another more casually. It doesn't feel like there's a hierarchy of "bosses" and "employees." It's a team-oriented culture that supports individual growth.
A: Chiara: Before joining Axon, I worked in the fashion industry in New York City. Each company has a rigid hierarchy that everyone must follow to get things done. You are expected to "stick by the book" to get your job done. It didn't leave much room to grow professionally because it keeps people siloed.

Q: How does Axon culture impact you as an employee?
A: Faith: Our workplace allows me to be more innovative personally and professionally. This freedom challenges me to think better, take pride in my career and decide how I work best in order to then best help the company. In my previous work experiences, there was always a handbook thrown at us on our first day. Onboarding at Axon is organic. I had meetups with my manager before officially joining. It felt more like relationship-building than a "sit and memorize our policies" process. It's driven my desire to become a senior leader here.
A: Chiara: Innovation is prevalent here. We have the freedom to do our jobs in any way that enables us to succeed. Rather than getting pushback on new ideas, we're encouraged to share our thoughts and new processes. Culturally, Axon feels like a startup. The culture encourages brainstorming not just when we're stuck on a challenge but also as a day-to-day exercise. As a new hire, I've been able to come up with ideas to improve product marketing! It's ignited my commitment and allowed me to think outside the box. I've found myself digging into books on technology, conducting surveys to drive better outcomes and making a tangible impact on my team's work. Like Faith, I am striving to become a senior executive here.

Q: What is your vision for yourself?
A: Faith: Given Axon is a public safety tech company, the work we are doing is especially crucial in today's social environment. The questions I answer in my role now include:

Is Axon heading in the right direction?
Is Axon making the impact that we want?
Ultimately, I want these questions to guide me to become a key player at the table. I want to be in the room where decisions are made. Axon has already supported my desire to grow in management and tech by inviting me to represent the company at AfroTech this year. My role is new at the company, and I want to improve it for those who come after me.
A: Chiara: My long-term goal is to be in a people leadership role. In other companies, you don't see many minorities or women in these roles, but Axon has both. I want to show those that look like me that they can start as an intern and move up in rank. I'd also love to create a mentorship and educational enhancement component to help new employees understand and embrace their skillsets, even if they come from non-traditional backgrounds. I want them to know they can contribute to our business.

Q: Are you involved in any leadership programs or business impact initiatives outside of your hired roles?
A: Chiara: Faith and I are both members of the internal Affinity Group Mosaic. Mosaic provides a safe space to gather, attend conferences and panels and hold authentic, open conversations. There are 50 members across the globe. As the newly elected Belonging and Impact Manager, I'm making it my personal goal to retain all current members and increase overall membership. I'd also love to get more involved in programs like Black MBA and Noble.
A: Faith: I'm the newly elected Mosaic Site Lead in Scottsdale. This includes planning local programming and enhancing how Mosaic can be influential and impactful both within Axon and the larger Phoenix community. I strive to make sure Axon is attending key events for Black tech talent and networking.

Q: Both of you had the opportunity to attend AfroTech this November. What was your biggest takeaway from attending?
A: Chiara: I first learned about AfroTech in 2017, and it's been on my vision board every year since then. I love working for a company that supports me and encouraged me to go. It was a true honor to represent Axon and talk about our mission and products with other industry professionals. Surprisingly, many people didn't know who Axon was or what the company did. It was invigorating to see how excited they were about our mission once I told them more about our "why." It was truly awe-inspiring to see so many people of color within a predominately white industry. It was refreshing to have an entire event where we didn't have to refrain from talking about natural hair, soul food and being Black in business.
A: Faith: Attending AfroTech was on my bucket list ever since one of my college professors recommended I check it out. I went into it very intentionally and genuinely excited to see how Black people impact technology. I especially enjoyed the panel on storytelling with data. Seeing so many intelligent people who look like me increased my excitement to be part of the Axon team. I feel like I can tap into this network to connect Axon with more rising talent.

Q: Were there any new concepts or programs you learned about at AfroTech that you've brought back into the workplace?
A: Chiara: Yes! There was an investment club panel put on by a bank which I found interesting. The discussion covered how to invest money, purchase property and build assets. I hadn't been exposed to that in such depth before. Since AfroTech, I've started an investment club with some friends, and we look forward to how this will grow in the coming years. I want to create an investment club at Axon, too.

Q: For younger people watching your career, especially those so new in role, what advice do you have for them?
A: Chiara: Be courageous and go for it, whatever it is you want to achieve. If you don't have the "right" amount of experience, submit your resume regardless. We have development programs like LinkedIn Learning to fill any skill gaps you have. Secondly, speak up often. Great ideas can't come to fruition if they stay in your head.
A: Faith: I'd say build your network. It's essential to have in the tech industry. Assert yourself in conversations, whether in an interview, your first day or your first year. Before you apply anywhere, clean up your LinkedIn, take pride in it and make sure it reflects all you've accomplished. Don't forget to do your homework on the company and ask good questions during your interview.

Q: What legacy do you want to leave at Axon?
A: Faith: I try to bring automation and efficiency in all we do through data.We have a lot of data within Axon, and some of it is still analyzed manually. By creating automated dashboards, I hope to provide Axon stakeholders access to real-time reports that provide transparency among teams. By creating the foundation of informed innovation I hope the people who come after me can effect change even more easily.
A: Chiara: I attended a historically Black university. I've learned such colleges aren't on many companies' radars for recruiting, but they should be. I want to inspire that movement to recruit from more Black institutions and associations. I want to be the vessel for Black women coming to work for Axon to develop skills and work their way up within the company.


Chiara and Faith embody the culture and leadership principles that allow Axon to take our mission and impact to the next level. Their engagement represents true leadership, which is not reserved just for those that have a long tenure at Axon. If you're looking to maximize the impact you can make with your unique perspectives, drive and skill, we invite you to come join us at Axon.

AfroTech is a service mark of Blavity, Inc., Gallup is a trademark of Gallup, Inc. and LinkedIn is a trademark of LinkedIn Corporation.