How to Migrate Digital Evidence to the Cloud
Nov 30, 2022

The world of digital evidence is quickly growing and changing. Law Enforcement, attorneys, and other investigators encounter more forms of digital evidence each day, and traditional models of managing all of that data can create challenges and slow down investigations.
While many digital evidence sources, such as CCTV cameras, body worn cameras, and doorbell cameras, offer their own playback and storage solutions, it can become unmanageable for officers looking to collect and view all the evidence for a single investigation. Fortunately, cloud-based digital evidence management systems like Axon Evidence provide a single point of truth, where countless types of evidence can be securely stored and managed.
In this article, we'll discuss the benefits of migrating all of your digital evidence into the cloud and the best way to migrate that data. Recent innovations make this process simple, straightforward and more secure than ever before.
Let's get started.
What is a Digital Evidence Management System?
Digital evidence management systems (DEMS) provide a secure solution for investigators who need a place to store, manage, organize, investigate, and share their digital evidence.
DEMS are often cloud based, but they can be on-premise as well. The important thing is that they serve as a single source of information and solution for keeping all digital evidence.
They differ from traditional storage solutions like Dropbox or Google Drive because they are designed specifically for handling digital evidence from capture to courtroom. Specific features and organizational techniques enable officers, attorneys or other users to work with the evidence in an efficient and centralized way.
For more on DEMS, learn about the benefits below and check out our Definitive Guide to Digital Evidence Management.
Benefits of a cloud-based DEMS
There are several benefits to keeping all of your digital evidence in a single location on the cloud:
Secure: Cloud storage inside DEMS is remarkably secure. For instance, Axon Evidence ensures that all information is fully encrypted in transit and at rest. We take security seriously and have invested significantly in advanced strategies that keep your evidence secure.
Reduced Physical Storage: Many law enforcement offices have a closet (or three) filled with servers or dusty hard drives, CDs and DVDs. This physical storage takes up a lot of space, is difficult to organize, and can take hours or days to search through. Water damage or fire can destroy these archives very quickly as well. Cloud based evidence storage saves you physical space, provides excellent redundancy, and enables every officer with access to search for evidence with a single click.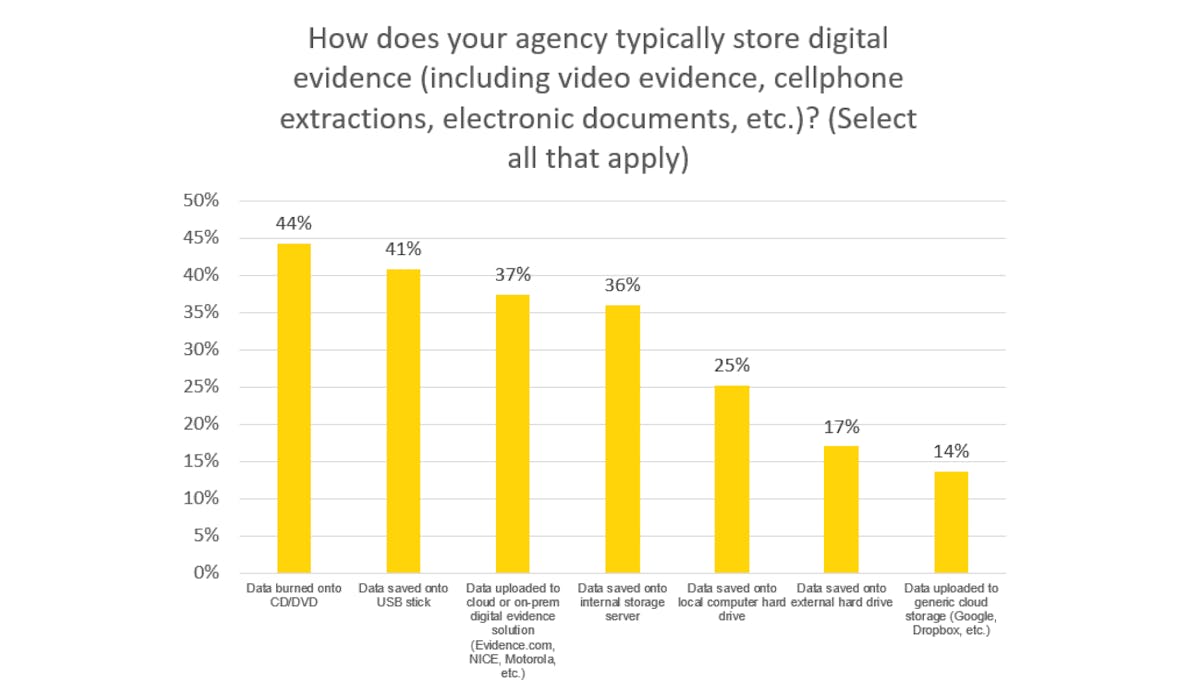 Single Point of Truth: Keeping evidence on your desktop, on a physical drive, in Dropbox, in your email inbox, and on several proprietary systems can be a major pain. It also makes it difficult to track any changes that have been made to evidence, creating multiple versions of evidence and challenges around chain of custody. Bringing everything into the cloud gets everything in one place, and you know you're working with the best evidence.
Maintain Chain of Custody: Digital evidence can be altered just as easily as physical evidence. This could happen by accident or on purpose, but for justice to occur we need to protect truth and ensure the chain of custody is maintained. Axon Evidence creates an audit trail of every single action around digital evidence. If someone views it, adds tags, redacts information, or creates subclips you will be able to clearly see who did something and when.
Quickly Search and Organize Evidence: When digital evidence is scattered across different locations, it can cause delays or even cause evidence to be forgotten or missed. Physical storage solutions like external drives and DVDs must be meticulously catalogued and sifted through to find what you need. With an effective DEMS, you can search and organize all your evidence quickly and efficiently.
Unlimited Storage Options Available: Storing digital evidence, whether onphysical drives, online storage services, DVDs or anything else, carries a cost. As digital evidence files grow both in size and quantity, agencies can benefit from the unlimited storage plans available with Axon Evidence. Store all your digital evidence in a single location, all while maintaining a consistent and predictable budget.
Easily Share Evidence: Often, investigators need to share digital evidence with other law enforcement agencies, attorneys, and even the media. Effective DEMS solutions allow you to grant access to external partners or share content with a secure link. Because Axon offers a DEMS solution for prosecutors and public defenders, officers with Axon Evidence can also seamlessly share evidence with frequent collaborators in the courts.
How do I migrate digital evidence from physical archives?
There are clearly several benefits to storing all of your digital evidence in a secure, cloud based DEMS. If you want to clear some storage space and migrate the evidence stored in that closet filled with hard drives and DVDs, what is the best way to migrate that digital evidence?
In order to move large amounts of data, you'll want fast upload speeds, large file size limits and the ability to maintain your existing folder structure. No one wants to re-organize thousands of files they have already organized on an existing drive.
Axon recently released the perfect solution for this, Upload XT Version 2. This solution is an incredible leap forward from the original version of Upload XT. The maximum file size has grown from 400 GB to 1.5 terabytes, allowing you to upload large video files or existing drives as a zip file. Upload speeds are also incredibly fast, up to ten times faster than the previous version!
Upload XT Version 2 allows you to migrate large amounts of data into Axon Evidence, all while maintaining your existing folder structure. The speed, large file size limit, and folder structure makes it incredibly simple for agencies to migrate data from their physical drives or disparate digital storage systems into a single, secure location.
Some agencies may choose to have their data migrated as a service, and Axon can certainly support this as well. For many, however, Upload XT Version 2 gives you the power to easily migrate digital evidence into the cloud.
How do I migrate evidence from ongoing cases?
If you're looking to consolidate digital evidence into the cloud for ongoing cases, Axon offers several intuitive solutions for this as well.
Once again, Upload XT Version 2 is available for migrating large amounts of data into the cloud. Investigators can migrate cell phone extractions, CCTV footage, and other forms of digital evidence into the cloud using Upload XT, and the folder structures will be maintained for cases. Folders can also be automatically turned into Zip files and uploaded by Upload XT to maintain folder structures that way.
But Upload XT isn't your only option. Axon hardware, including the BWCs, TASER 7, Axon Air drones and Fleet cameras are all created to make it easy and even automatic to load evidence into the cloud. Depending on the settings you select, you can ensure digital evidence gets loaded when devices are docked, connected to WiFi or through priority upload via LTE.
If you encounter community members who have evidence they would like to share, then you can provide them with an Axon Citizen link. Once an evidence request has been made, community members can upload their photos or videos directly into the secure digital evidence management platform. Depending on your triage settings, all uploaded evidence can be reviewed before being accepted into the DEMS platform.
When manually uploading individual pieces of evidence, you can also use the upload link inside Axon Evidence. This is one of the easiest and most straightforward ways to manually load evidence, but the file sizes limits (4GB) are smaller than what is possible in Upload XT v2 (1.5 TB).
No matter how you upload your evidence, you can keep it organized thanks to the Cases functionality inside Axon Evidence. You'll be able to keep all your evidence for each investigation together inside a single case, creating efficiencies that allow you to accelerate justice.
Next Steps
If you're looking to migrate your data, then the best time to start is today. Upload XT Version 2 is available to all Axon Evidence users. If you have questions about using Upload XT, your existing Axon Evidence account, Unlimited Storage plans or getting started with Axon Evidence, then contact us today.