How to Leverage PRVA to Improve Body-Worn Camera Review Process
Focus your review efforts to drive meaningful change in less time
May 17, 2023
Dramatic body-worn camera (BWC) footage often makes its way into the news, and yet, the everyday realities of policing are often much different. The average agency generates anywhere between 500 to 2,000 BWC videos per day, many of them featuring unsung heroes, mixed in with mundane welfare checks, and in some cases, documenting patterns of problematic behavior that, if early intervened, could help avoid a grievous incident down the road.
"Regular BWC audits help supervisors not only catch people doing the wrong things, but also the right things so they can provide recognition, coaching and even rewrite policies to fit reality," says Thuc Nguyen, Product Manager for Axon Performance. However, the high volume of videos generated daily makes audits incredibly time-consuming, and logistically nearly impossible to perform on a regular basis, especially for larger departments.
That's why Thuc's team spent two years working to resolve the administrative challenges of reviewing vast amounts of BWC footage. "We wanted to get it right," Thuc explains, knowing that supervisors doing BWC audits need to juggle a lot of priorities and viewpoints, and the vast pressure law enforcement agencies feel to treat all parties fairly. Priority Ranked Video Audit (PRVA) is the result of the team's efforts.
We sat down with Thuc to talk about the new feature and how current and new Axon Performance users can utilize PRVA to complete their BWC audits in a matter of a few clicks.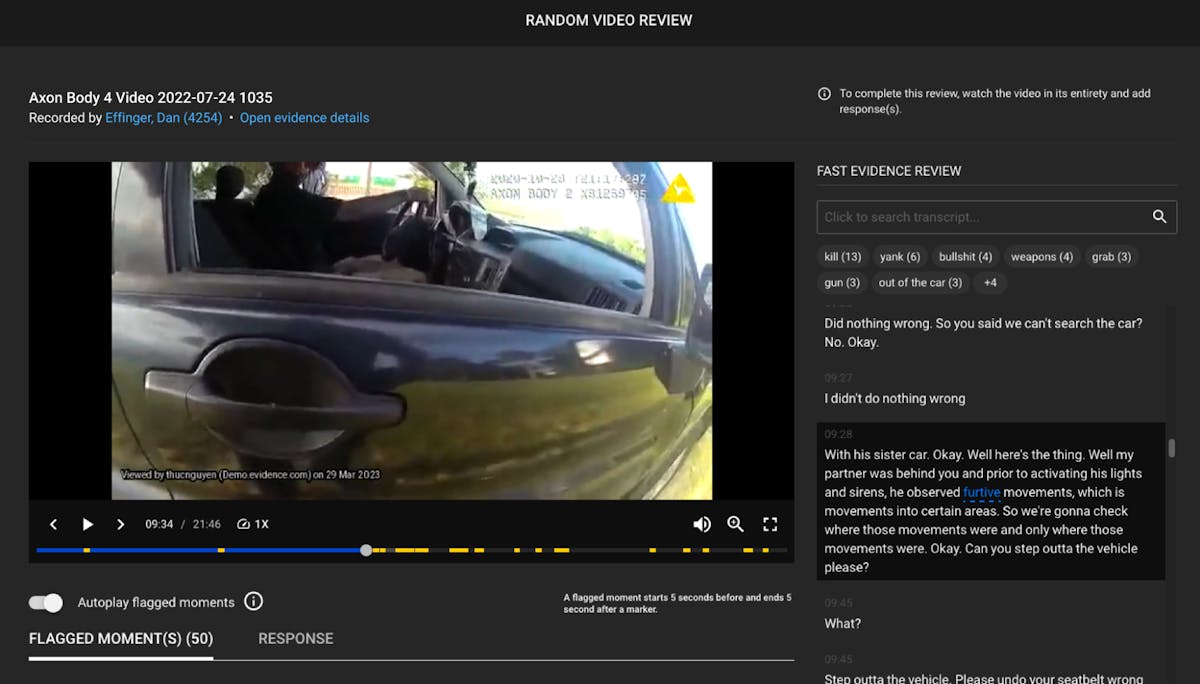 What is PRVA?
Priority Ranked Video Audit is the latest feature available as part of Axon Performance. It uses speech-to-text and keyword searching algorithms to find videos that contain language indicating specific behavior and surfaces footage with the highest volume of these keywords for review. On top of that, it also flags critical moments in which a TASER device was triggered, or a firearm was unholstered (Axon Signal Sidearm).
Agencies can also customize the keyword search algorithm with their own keywords and keyword phrases most appropriate for their department needs​​. These can be phrases with negative sentiments like "stop recording me", "stop resisting", "I can't breathe", "show me your hands'' or phrases with more positive sentiments like "thank you officer" or "have a nice day". They can also be specific to your department or area, like the name of a local gang. Once the set of keywords is determined, PRVA scans, scores and ranks all incoming footage in the background.
When a supervisor is ready to do an audit, all they have to do is click "Review Now" and begin watching the most relevant video. Supervisors also have the option to watch multiple BWC feeds from the same incident as well as Axon Fleet footage in the same video player, in order to get multiple perspectives on an incident.
The moments where keywords and TASER/Signal Sidearm events appear in the recording are already auto-flagged so auditors can easily jump to those "critical moments" of the video. The video player runs alongside a searchable transcript which also highlights the keywords.
Here's a quick video overview of how PRVA works.
How is PRVA different from other "AI" solutions?
Unlike other solutions, PRVA does not assign officers "professionalism scores" for managing common incidents. Instead, supervisors review the video with their own eyes and make their own assessment about the officer's action. That, Thuc says, was an intentional decision.
"[Axon] Performance keeps humans in the loop," he explains, because treating officers fairly is not only an employee morale consideration, but a legal obligation for most law enforcement agencies who cannot cherry-pick the BWC they review during audits per agreements with police unions. PRVA abates this concern by focusing on potentially problematic behavior and spreading out the reviews evenly among officers, not single-targeting specific officers.
How can law enforcement agencies use PRVA to streamline the BWC audit process?
When Thuc's team first started developing PRVA for Axon Performance, many police departments were conducting BWC audits via pen and paper. A supervisor would sit down, pick a few random BWC videos to review per month or quarter, and then watch the entirety of the video, filling out paper forms by hand – a tedious and not always productive task.
In fact, Thuc says that one of the pain points often brought up by their law enforcement partners is the unhelpful nature of selecting videos at random. Supervisors had no way to weed through footage to get to videos exhibiting good training moments or issues that needed to be addressed.
'Performance's automated workflow is a quantum leap compared to that cumbersome paper-based approach," Thuc says. Most of the work happens automatically – saving an enormous amount of time – but supervisors and chiefs are the ones making decisions about what to do with surfaced footage. The human element isn't lost, but neither is precious time sorting through hours upon hours of benign traffic stops, welfare checks and accidental camera activations.
Since its official launch in October 2022, 92 agencies are already using PRVA to simplify their BWC audit process. The Aurora Police Department is using PRVA to continuously improve their officer's performance and come up with better solutions for their communities, stressing that making BWC reviews easier is not just about catching bad behavior. In an interview with CBS Colorado, Lt. DJ Tisdale said, "I think this shows just how much APD is committed to working to show our transparency and to improve ourselves as an agency and help our officers do the best they can." 
Current Axon Performance customers can activate PRVA in their dashboard anytime. If you'd like to chat with someone from our team or need help getting started, reach out to our customer support team.