Unidos: How Celebrating Hispanic Heritage Helps Drive Unity and Inclusivity
Sep 21, 2022
Each year, the National Council of Hispanic Employment Program Managers, or NCHEPM, selects an annual Hispanic Heritage Month theme. This year's theme is Unidos: Inclusivity for a Strong Nation.

According to the U.S. Bureau of Labor Statistics, Hispanics and Latinos make up 18% of the U.S. labor force. Hispanic culture brings a rich combination of language, culture, educational backgrounds and experiences to the United States. At Axon, our HOLA affinity group, representing our Hispanic Origin and Latin American employees, helps us highlight the diverse perspectives and cultures of our Latinx team members to foster unity and connection, both at work and in the communities we serve.

We sat down with HOLA members Eli Dominguez, Andrea Cordero-Rivera and Maria Villavicencio to learn more about the affinity groups accomplishments and their upcoming Hispanic Heritage Month celebrations.

Q&A with HOLA
Q: HOLA was established in 2021. Can you tell us what you have been up to over the past year?

Andrea: HOLA has rapidly grown from a concept to a robust community of more than 200 identifying members and allies in its first year. We set priorities to listen, learn and support our members. One way we accomplished this was through our employee engagement Cafe Con Leche series, educational sessions on Hispanic history and culture. We also drove inclusivity and connection through luncheons, happy hours and more. We were so excited to host Dr. Richard Carmona, former U.S. Surgeon General, Medical Expert and former Board Member for Axon to speak about being the First Hispanic Male Surgeon General of the United States and the challenges he faced in his career. He shared amazing anecdotes from his childhood in the Bronx as a young Puerto Rican boy.

This year, we were excited to kick off Hispanic Heritage Month with a keynote from Lorena Valencia, Entrepreneur and Director of National Minority Supplier Development Council. Lorena spoke to Axon employees about bringing a chair to the table instead of waiting for one to open for you and the importance of diversity of thought.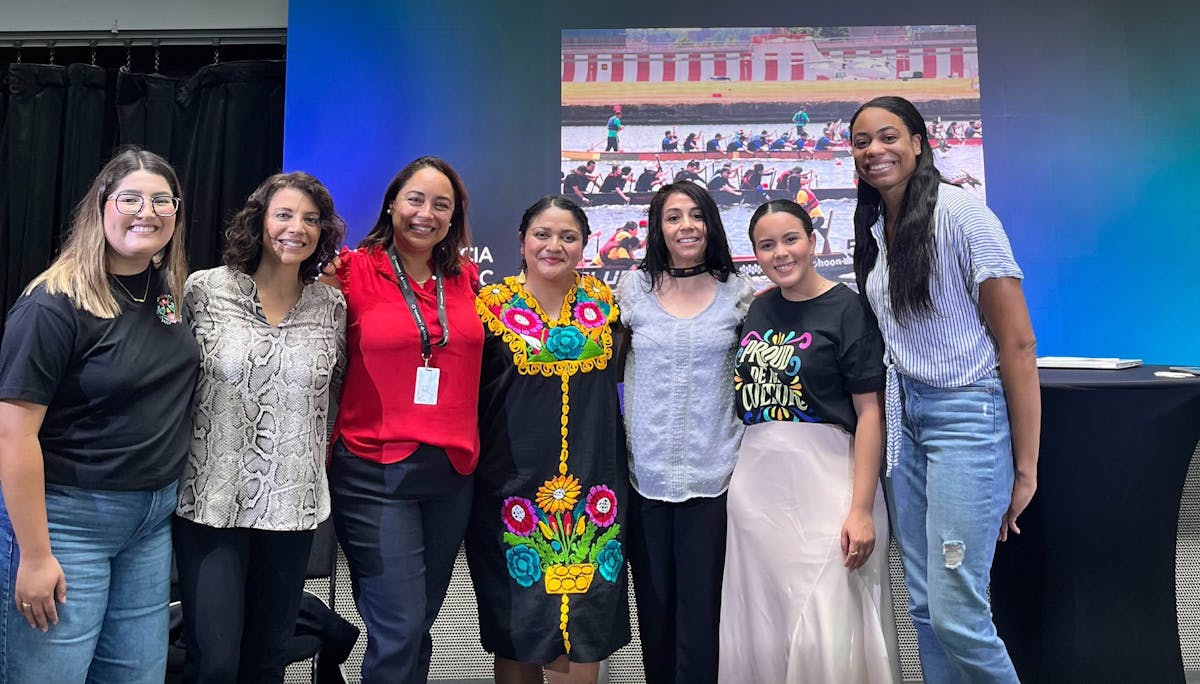 Q: We know affinity groups are critical for employee engagement. What's your take on how HOLA contributes to unity among the Axon team and helps us build for justice, equity, diversity and inclusion?
Maria: HOLA creates a warm, welcoming and accepting environment for anyone at Axon where individuals are heard and celebrated. By creating a safe place for individuals to share ideas despite differences in jobs roles, HOLA empowers members to express their creative minds and think outside the box. I also find that hearing a lot of their stories reminds me of home and my identity, helping to keep me grounded in an ever-changing world.

Eli: I would say the main collaboration is focused on diversity and inclusion. HOLA includes representation from several countries, not only in the Americas but also in Spain. Each one has its own culture, and different languages (Spanish, Portuguese, French). We all have a voice in Axon, and we all can have any role in this company.

Q: As someone from Hispanic/Latinx origin, how has integrating in corporate America been different than others experience?
Andrea: As a predominant white-male dominated environment, when I first started my professional career, I always tried to fit myself into "the box". I was afraid to show my big curly hair, my flamboyant dressing style and my Puerto Rican-Latina accent. For years, I would only go to interviews with my hair straightened, and when I got the job, I'd continue to wear my hair in this way or in a slick bun so as to appear more "professional" as I thought at the time. However, I've learned over the years that being different was how I've been able to overcome adversity, leave an impression, and create change in my workplace. I started to embrace my hair, my culture and all my superpowers that made me uniquely me.

Maria: I feel like I got lucky with Axon because we have such a welcoming culture. I have never had any issues. When I transitioned to my new role, I looked around, and only one other individual spoke Spanish, but not once did I ever feel less or like my ethnicity made me different.

Eli: My biggest challenge has been cultural, and in specific with food and vacation. In Spain, our main meal is lunch. For us, it is something social. During my time working in Spain before moving to the U.S., I used to take a break of 45 minutes or 1 hour for that. I would always go to the lunchroom or restaurants with coworkers and try to disconnect from work. I was in shock when I first moved to the U.S., and people were eating a snack for lunch in front of their monitor, or they warmed up something in the microwave and ate at their desk. The mix of smell in the work area was something I was not used to. Still, I have maintained my habit, and I have been enjoying my lunch with some coworkers who decided to join me!

About the vacation time in U.S., my first experience was having 2 weeks a year. Considering I wanted to travel to Spain to visit my family 1-2 times a year, this was very frustrating. On top of that, I would see people setting their "Out of Office" with work availability while "enjoying" their PTO. I used to feel like the only one in the room who needed a break. Years later, I really appreciate the flexibility of remote work and unlimited PTO, which helps me a lot with travels to visit my family at the same time as taking some vacation. I am also happy to see that the "Out of Office" signatures are changing, and people now seem to be less available (or not available at all) during their time off.

Q: What are the biggest challenges Hispanic and Latinos face in the workplace?
Andrea: Despite the advances we have made to create a more inclusive workplace, Latinxs still continue to face unique barriers and challenges in the workplace. Many Latinx professionals feel they have been overlooked or intentionally passed by for career advancement opportunities (e.g., promotions/pay raises) because of their race and many Hispanic professionals have faced discrimination/micro-aggressions at work. It's extremely important now more than ever to create truly inclusive workplaces that respects our authentic selves.

Q: In your opinion, how can companies best support their Hispanic and Latino workers to succeed?
Andrea: I believe companies can help Latinx/Hispanic professionals succeed by ensuring their Hispanic/Latinx employees don't just fill positions but making sure we sit in several senior executive roles. Giving leadership opportunities and professional development helping to support impacting business goals and advancing careers.

Eli: Creating the HOLA affinity group is a big step. Axon is giving us a voice and seat in the room for discussions. But it is important to find the correct people to lead the group. It is easy to find Latinos and Hispanos, but you need people with leadership skills.

Q: What advice would you give companies hoping to celebrate Hispanic Heritage Month, but who aren't sure where to start?
Eli: Do some research about all the countries represented by your employees. Select a person from each, and let them talk. Let the fun begin!

Axon Careers
We are on a mission to Protect Life. We're building technology to change the world, pursuing society's most formidable safety and justice issues with our ecosystem of devices and cloud software. If this sounds like a mission you would like to be a part of, check out our resources below:
About our team:
Maria has worked at Axon since March 2018 and recently transitioned into an Executive Assistant role supporting Global Supply Chain, VR, Training and Hardware Engineering. She is a proud member of HOLA representing Mexico.

Eli has been with Axon since May 2018, and is currently a Global Product Compliance Engineer II, reporting to legal team at Axon. Though she originally worked 4 years in the Arizona HQ , she now works remotely from Washington, DC. Originally, born and raised in Seville, Spain, Eli has been living in the US for the last 11 years.

Andrea has worked with Axon since November 2020 and is currently a Program Manager II, AR/VR focused on Customer Experience. She is a born and raised Puerto Rican that moved to the United States almost two years ago to join Axon as part of the Leadership Development Program. Andrea founded HOLA last September with the hope to create a community of people with similar backgrounds and experiences.