Do more with your video evidence
REVIEWING EVIDENCE MADE SIMPLE
COURT-READY TRANSCRIPTS IN A FRACTION OF THE TIME
SIMPLE AND SECURE WORKFLOWS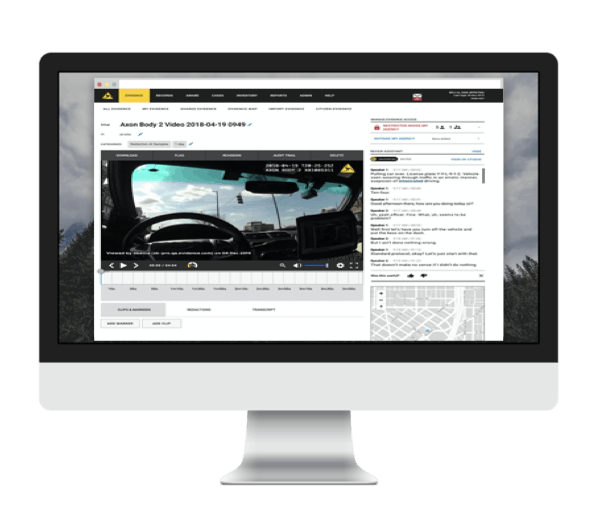 With HyperMedia, the AI-generated text is linked to every moment in the video where it occurred, giving you the power to rapidly find information. Easily find key moments in video or audio files by scanning text or keyword searches within and across videos. Hypermedia will create the internet of evidence enabling structure, search, and analysis to the millions of GB of data in Axon Evidence.
We estimate a 65-75% time savings just by being able to push a button to get a transcript.
Steve Ferrie
Lieutenant
/
Rowlett Police Department
Time-synced auto-transcript
Click on a word and jump right to that spot in the video or audio, eliminating the need to review the whole file.
Auto-transcribe any type of audio/video evidence, including body-worn video, in-car video, interview room video, CCTV, audio recordings, and more.
Reference when critical details in the evidence were said and by which speaker with embedded timestamps.
Category-leading accuracy for law enforcement data, optimized for equitable performance among diverse populations.
Start transcribing in three simple steps with innovative editing tools.
Seamlessly share transcripts using the industry's only scalable solution for justice system collaborators.
Auto-transcribe multiple videos/audio files at one time, freeing up resources to focus on critical issues.
CJIS-Compliance and Encryption
Axon Auto-Transcribe data is fully CJIS compliant and is encrypted in transit and at rest. For more information, visit axon.com/trust/security.