How Do You Keep "The Biggest Party in Golf" Secure?
Axon Air, Axon Aid, and Securing the People's Open
May 01, 2023

February is a busy time for Scottsdale, Arizona, as the city plays host to the Waste Management (WM) Phoenix Open, the highest-attended golf tournament on the PGA Tour. An event of this magnitude requires a vast amount of security resources, and 2023 posed a special challenge: The Super Bowl was scheduled for the same week, also in Arizona, only 30 miles from the Waste Management Open. 

With the potential for strained security resources between the two behemoth sporting events, Axon New Ventures joined forces with Axon Aid, Axon Air, Scottsdale Police Department, and Thunderbirds Charities to accomplish a first-of-its-kind aerial security proof of concept. Throughout the operation, Axon leveraged tools and technology from Arizona State University's Luminosity Lab, FUSUS, Axon Air powered by DroneSense and Dedrone to ensure local police departments had the resources they needed to provide a safe and fun environment for The Open.
We sat down with Karl Schultz, VP of Axon New Ventures, to learn the ins and outs of managing surveillance logistics for a massive, multi-day event. 
The challenge: Securing a temporary event space with over 200,000 single-day attendees
The WM Phoenix Open is a world-renowned PGA tournament and charity event held every February at TPC Scottsdale. While attendance numbers haven't been released since 2018, the tournament often hosts up to 700,000 attendees throughout the week, with Saturday alone seeing over 200,000 people. This is quite the security challenge for Thunderbirds Charities, a non-profit organization in the greater Phoenix area that oversees the event.
On top of the sheer number of people on site, the WM Phoenix Open is a far rowdier event than your typical golf tournament — especially at the 16th hole, dubbed "The Loudest Hole on Earth."
"It's more Happy Gilmore than Augusta," Karl explains. "To see hundreds of beers going over the fence onto the green, it's not exactly a 'classic' golf moment, but you can tell everybody there is having a blast."
The WM Phoenix Open is so large that each year, temporary buildings and checkpoints extending well beyond the standard borders of the golf course and resort are erected, meaning several miles of event perimeter to oversee, in addition to general crowd monitoring. 
"Hundreds of thousands of people are going to roll into a confined space over the course of a couple of hours in various states of inebriation," Karl says. " You want to maintain safety, and you also don't want to quell a good time. That's the balance that the Thunderbirds are tasked with achieving each year."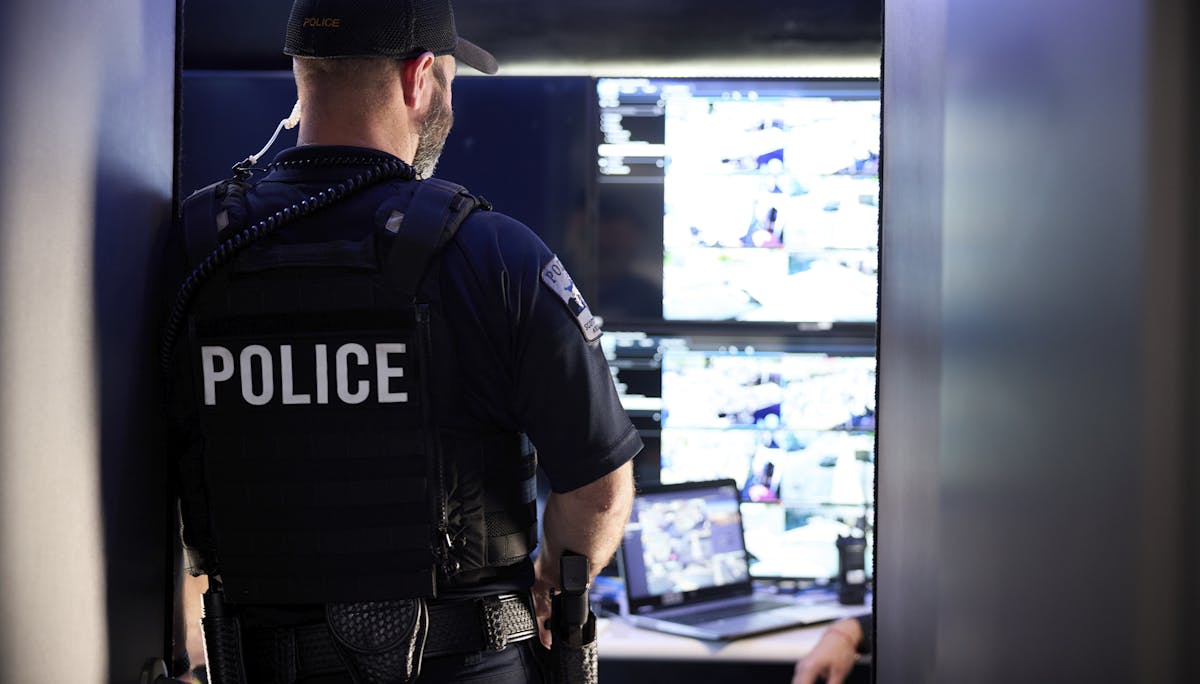 The solution: Partnership to provide coverage
Heading into 2023, Axon New Ventures proposed a security plan that would provide the Thunderbirds with bolstered security at no cost while also providing an invaluable live test case for Axon New Ventures' aerial robotic security system, featuring a full suite of products and solutions from the Axon ecosystem.
"We started planning this idea two years ago," Karl explains. "We thought this would be a great opportunity. It's local, and the Super Bowl was also scheduled to happen around the same time on the other side of town. We knew these events would be a drain on resources for law enforcement, and we wanted to help."
Axon New Ventures partnered with Axon Aid, Axon's corporate social responsibility arm, to make this idea into reality.
Security Operations Centers
The first major piece of Axon New Ventures' aerial security system was two Security Operations Centers to help Scottsdale PD manage security during the event. Axon HQ, located within a few miles of TPC Scottsdale, served as the main hub for drone operations in North Scottsdale, while Axon Voyager, a 40-foot tractor-trailer kitted out with TVs and communication equipment, would oversee foot traffic south of the event in Old Town Scottsdale.
These operations centers were hooked into Scottsdale PD and TPC Scottsdale security feeds. By scanning QR codes provided through the Axon Air powered by DroneSense platform, officers could instantly pull up a live security feed from Axon drones on any smart device. And increased situational awareness through Axon Respond enabled Scottsdale PD to respond to situations quickly and with up-to-date information.

Guardian Balloons
In addition to Security Operations Centers, Axon needed a flexible solution to help monitor the event from a bird's-eye view. That's where the ASU Luminosity Lab came in. They developed a fleet of balloons fitted with a suite of cameras and sensors that could be deployed across event grounds for the duration of the tournament.
"The balloons were a brilliant addition from the Luminosity Lab," Karl explains. "Each balloon was outfitted with a super high-fidelity camera and a secure, water-proof Pelican case to house the balloon's battery and electronics."
The Luminosity Lab built a dozen balloons and branded them with logos featuring event sponsors. They then deployed them around the city to provide Axon, Thunderbirds Charities and Scottsdale PD with an aerial view of event traffic at the WM Open and the most congested areas in Downtown Scottsdale.
In addition to the broad event security coverage provided by ASU's balloons, Axon Aid deployed several traditional and tethered drones to surveil the event. This drone coverage was truly the core of Axon New Ventures' proof of concept security operation.
Axon Aid is no stranger to drone operations. Axon Aid has a disaster response program that provides no-cost support to first responders and their communities in the aftermath of devastating natural disasters. This program includes an emergency response team of FAA Part 107-trained drone pilots who are skilled at operating drone technology in difficult conditions and terrains. Thanks to this expertise, Axon Aid was well-equipped to manage drone operations during the event.
"Axon Aid is Axon's charitable arm," Karl says. "But the emergency response team is the one that responds to hurricanes, tornadoes and other natural disasters around the United States to support law enforcement agencies and communities. In this case, we suspected that there would be a significant demand for drone operations. When you look at who flies drones at Axon, Axon Aid is the epicenter of our Part 107 pilot cadre."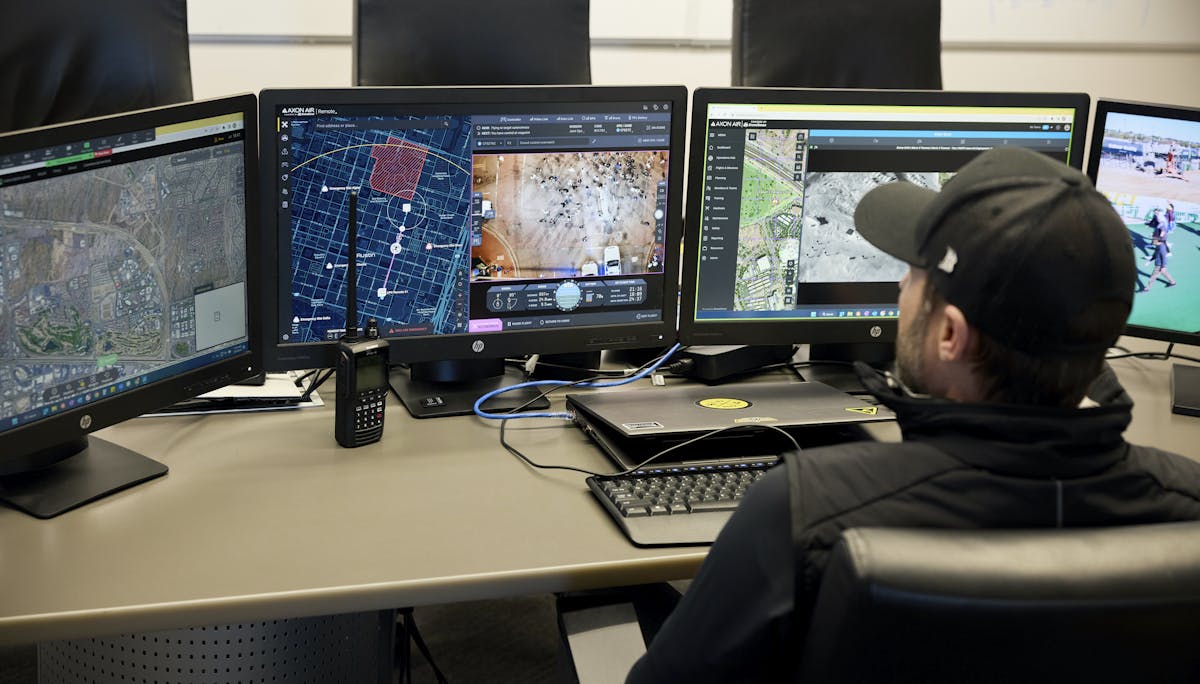 Axon Aid and key Axon Air personnel ran operations for the duration of the WM Open, working cross-functionally in conjunction with Thunderbirds Charities, Scottsdale PD, the PGA Tour and the FAA. 
The biggest obstacle to pulling off security coverage of this magnitude was receiving the clearance to fly in Class-D airspace.
"Scottsdale Airport is less than a half-mile away from Axon and a half-mile away from the golf course," Karl explains. "Normally, you're not allowed to fly a drone in that space."
The FAA granted Axon Aid a waiver to fly drones within this airspace, which allowed the team to fly both manual and Axon Air Remote Drone as First Responder (DFR) missions to provide video security of the event, as well as coverage of outlying areas, like parking lots. 
"That waiver gave us a lot of flexibility," says Karl. "On day two, the crowds started to pile up, preparing for the sprint to the 16th hole. Along with the regular morning traffic, there are blocks and blocks of foot traffic backing up — literally tens of thousands of people. So the Thunderbirds and Scottsdale PD asked us, 'Can we get eyes on the event just to make sure the crowd is moving effectively and make sure there aren't any flare-ups?'"
Axon Aid utilized a variety of tech partnerships to flesh out its coverage. Axon Air powered by DroneSense provided several operational partners with QR codes to access live drone video feeds throughout the event. Dedrone enabled the team to detect, identify, and mitigate unauthorized drone activity. And FUSUS pulled everything together, integrating into Axon's Security Operations Centers.
Axon Aid flew over 150 flights within the five-day event for 30 total flight hours, providing consistent day and night coverage for all partners. During the operation, Axon was able to detect a few unauthorized drone operations and inform the police of their presence. 
Axon Aid also prevented several fence jumpers from crossing the grounds at night. Karl explains: "One side of the golf course borders houses. Some people staying in the area were tempted to hop over the fence. With thermal imaging, it's pretty easy to find them at night. We were able to intervene just through the presence of the drone. We didn't need to send a security officer — they saw the drone with the spotlight, said, 'Well, you got me,' hopped back over the fence and ran away."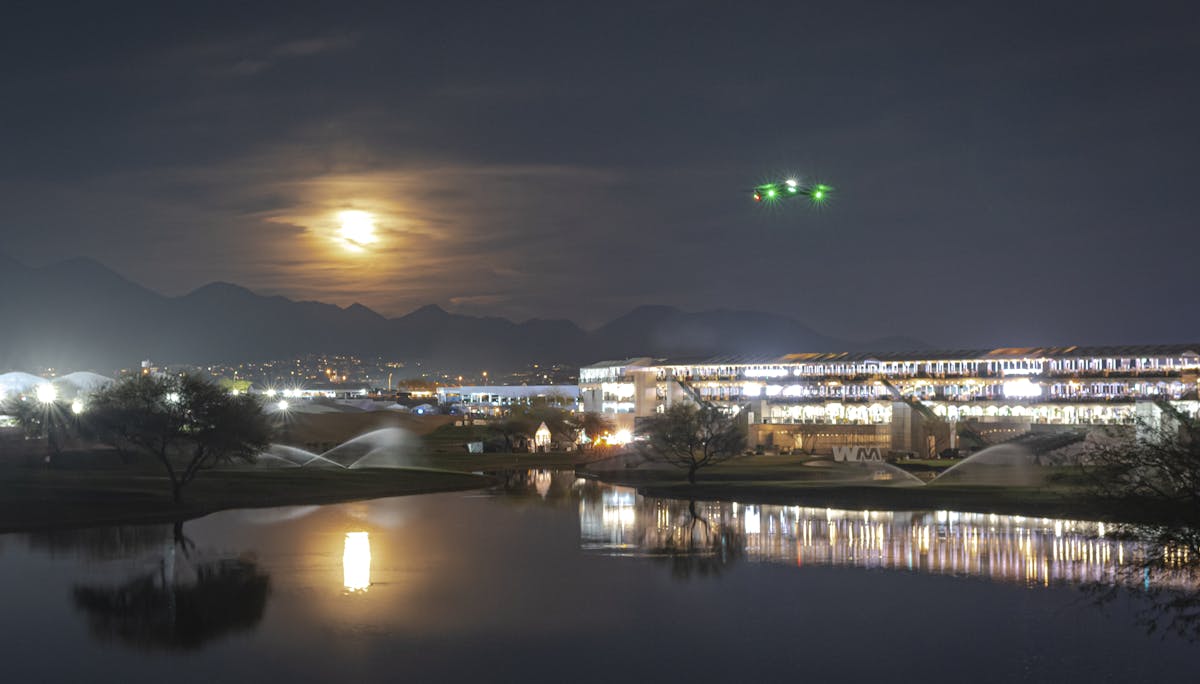 The benefit: Improved coordination led to a safer community
Through the integration of Axon Aid and Axon Air's drone security coverage, Axon's tech partners, ASU Luminosity Lab's balloons and coordination with Scottsdale PD and Thunderbirds Charities, the WM Open went as smoothly as anyone could have hoped.
"Overall, the project was a huge success," Karl says. "Everything worked as advertised. The coordination with Axon Aid and both Scottsdale PD and Thunderbirds was amazing — just great individuals who just want to have a good experience in a good event. We were thrilled with the public-private partnership there."
Karl already has ideas to improve the system for next year's Open. "We learned a lot about how to operate more efficiently, more effectively," Karl explains. "For next year, we're going to start planning and flying earlier to make sure things are moving as they should and allow Scottsdale PD to have better situational awareness.
"But at the end of the day, seeing the tech work together was everything we hoped it would be. That was the biggest challenge. We know all of these things work independently. How do they work together? The answer was 'pretty darned well.'"
Contact us today to learn more about how Axon's ecosystem of services can improve outcomes.
The Delta Logo, the Axon & Design Logo, Axon, Axon VR, TASER 7, and TASER are trademarks of Axon Enterprise, Inc., some of which are registered in the US and other countries. All other trademarks are the property of their respective owners. © 2023 Axon Enterprise, Inc.