Career Advice from 5 Axon Veterans
Nov 11, 2022
At Axon, we support our service members, both active and veterans, and we are incredibly proud of each and every one of them. As a mission driven organization, a key focus at Axon is also to develop modernized, less-lethal opportunities for U.S. military bases at home and abroad.

Veterans bring highly unique skills, experiences and perspectives to Axon's public safety mission, making Axon the perfect place for transitioning service members to continue their national security careers. Many of Axon's workforce identify as active duty military or veterans.

This Veterans Day, we sat down with Axon Veterans, one of six company affinity groups, to get their advice on successfully transitioning from military service to a civilian career. Here's what they had to say:

Q&A with Axon Vets
Q: What roles/career fields at Axon would you say are the best fit for vets and why?
Ben Morens: Any and all roles at Axon would be a good fit for veterans. The military has thousands of jobs that directly correlate to jobs at Axon. From truck drivers to network engineers to people operations to program managers and everything in between. Plus, the military instills leadership and many of the soft skills needed to succeed in the civilian workplace.

Mike Rennie: Axon is a mission-driven company and that resonates with all veterans. There are unlimited opportunities for veterans that want to learn, grow and challenge themselves at Axon. Organization skills, leadership skills, attention to detail and executional focus are all military skills that translate well to Axon. Axon is growing and new opportunities are created daily. Veterans only need to be self-aware of their skillset and passion to find the right home at Axon.

Saunsanie Kitchko: I believe many veterans would be drawn to Axon based on their inherent drive to purposeful work and for the mission and culture at Axon. Most veterans have a wide array of experiences, and I firmly believe the traits acquired during military service, such as discipline, accountability, respect, duty, selfless service and teamwork help veterans deeply connect with the mission at Axon and our law enforcement customers - many of whom are also veterans.

Hardenio Abdon: One skill that all veterans have is expert time, personnel and asset management. From all fields in the military, all veterans have many unique skills that benefit civilian organization. My best advice is don't limit yourself to your last MOS (military occupational specialty) in the military. Think outside the box and capitalize on all the skills earned in the military.
Q: As someone who is a veteran, how has your experience helped you integrate in your current role at Axon?

Ben Morens: Military experience teaches the ability to create structure from ambiguity. As a scaling company, Axon provides this opportunity to create structure in an environment that balances being mission and values driven. This culture is unique, and because of the environment and the opportunity, veterans are able to come into the company and have an immediate impact.

Mike Rennie: Military experience is very unique compared to experience in the corporate world. Military experiences allow veterans to approach corporate challenges with clear frameworks and confidence. Axon, like the military, often thinks in terms situation, mission and execution and places an overwhelming value on the collective success of the team.

Saunsanie Kitchko: Since leaving the military 15 years ago, I'm on my third employer and each integration process has been different. One of the things I appreciated most about Axon was the similarity in culture to the military, which made the transition seamless. I instantly connected with people because they embody the same values that I do. Axon is unique because the individuals that are called here are rooted in purpose and service.

Hardenio Abdon: The military provided me with some valuable leadership skills. We learned critical team-building skills, and understood that the team is only as strong as its weakest link. One of Axon's values is Join Forces. Join Forces is comparable to the military expectation of aligning team members to achieve a common goal.

Amanda King: It is interesting how I still fall back on the foundations from my military experience. Being decisive with limited information, pivoting quickly when the environment warrants change, trusting and empowering the team to cover their sector so I can do mine, removing barriers in the way of team success, creative problem solving, collaborating with other teams and a strong sense of mission/purpose all help me in my role at Axon.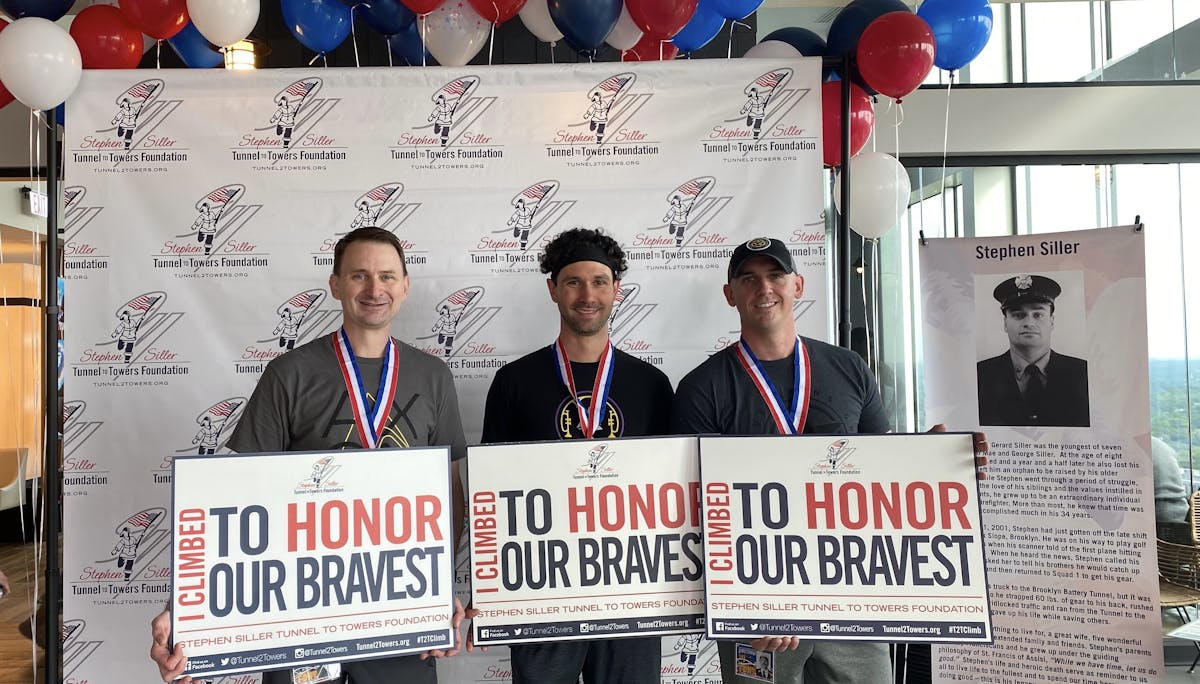 Q: What is the biggest challenge you encountered as a vet in the workplace?

Ben Morens: One of the biggest challenges I faced was the corporate world's inability to understand and translate corporate into military and vice versa. Many of the frameworks, templates, structures and processes in corporate and military are the same, but the terminology and the approach are different (one example being BLUF - Bottom Line Up Front and TL;DR - Too Long, Didn't Read, which mean mostly the same thing but could get lost in translation). Because they don't speak the same language initially, veterans tend to have a hard time understanding how to operate in the corporate environment, especially when it's not a mission-driven environment. And, when the corporate approach is much softer, veterans can feel lost and and like they are not providing value in a timely manner.

Mike Rennie: The biggest challenge for me was overall business acumen and vernacular. The corporate environment has its own acronyms and battle rhythm, which is different from the military. Luckily, Axon has a lot of veterans that are open to mentoring and helping with the transition.

Saunsanie Kitchko: One of the challenges I encountered when transferring from the military to the business world is translating military experience to business opportunities. I've also noticed that leadership experience from the military is undervalued or not recognized in the business world. I would say this remains an opportunity at Axon as well.

Hardenio Abdon: One of the biggest challenges for me was knowing when to stop working. In the military, everything that was critical or mission essential that could effect life, limb or eyesight required immediate attention. In the civilian workplace, that is not always the case. In most cases, there's no need to overwork yourself as there is always tomorrow.

Amanda King: The biggest challenge I had in my first role outside the Army was finding my sense of mission, purpose and belonging. While the job was important, it didn't "feel" like I was operating for a mission bigger than myself anymore. One of the things I love the most about Axon is the clarity of the mission, purpose and belonging. Each day I wake up knowing with certainty that I am operating for a mission far bigger than myself, with a group of people focused on the same. It is as fulfilling as waking up each day putting on the uniform and boots.

Q: What advice would you give to another vet who is looking for a position that best fits their experience?

Ben Morens: Talk with veterans who are already in the workforce. Talk with a lot of them. Talk with those who recently made the transition, talk with those who made the transition within a couple of years and talk with those who made the transition several years ago. Each of these different cohorts will have different advice and perspective that will help you along your journey.

Mike Rennie: I'd advise veterans to think about what motivates, inspires and interests you. Veterans often feel boxed into roles/positions that closely align with military experience. Veterans can do anything from sales to product management! These opportunities will not be given, and you will have to acquire the skills needed for a position, but be curious with your career choices. Seek a company and position that check all the boxes for you, even if it doesn't directly connect to your previous military experience.

Saunsanie Kitchko: Evaluate the options, determine what you have most interest in and provide relevant examples of your experience. The military provides professional development in countless ways, so although there may not be a direct parallel in the job experience, there likely is a connection to the skill that you honed while serving.

Hardenio Abdon: I agree with everyone here. Talk with a veteran who made the transition. There are many great organizations out there to help, however you can do it yourself as well! Don't be intimidated---you've been through much worse in the military.

Amanda King: Reflect on what makes you feel fulfilled before stepping into your first role. Don't get enticed by the size of the paycheck or sexiness of the company name, get enticed by the mission and purpose of what you will do each day. I have worked with several transitioning veterans over the years and the one consistent message I hear (along with my own experience) is the need to feel like they are working toward something greater than themselves. Those who find that immediately tend to thrive, and those who take a job for other reasons tend to struggle. If you find the right purpose in your career move, you WILL thrive, your skills WILL be valued, you WILL continue to serve in your own way.


Axon Careers
We are on a mission to Protect Life. We're building technology to change the world, pursuing society's most formidable safety and justice issues with our ecosystem of devices and cloud software. If this sounds like a mission you would like to be a part of, check out our resources below:
Get to know the team:

Mike Rennie joined Axon in 2018 after serving 4 years active duty and 3 years reserves as a logistics officer in the United States Army, including one deployment in support of Operation Enduring Freedom. Today, Michael works as a Director of Operations for Axon's consumer business.

Ben Morens joined Axon in 2022 after leading Logistics, Warehousing and Network Operations for Carvana. Prior to Carvana, Ben filled a number of leadership roles with companies like PayPal, Trax Group and Deloitte Consulting. In between corporate careers, Ben served 5 years active duty in the US Army Special Forces. Today, Ben manages Axon Global Logistics, Distribution and Packaging.

Saunsanie Kitchko joined Axon in 2022 after 15 years in Medical Device Sales. Saunsanie served 4-years active duty in the US Army as a Medical Services Officer and deployed in support of Operation Iraqi Freedom. Today, Saunsanie works as a Strategic Account Executive for Axon's T1200 Growth Team.

Hardenio Abdon joined Axon in 2021 after he retired with 20 years of service from the US Army Military Police, where he worked as a Military Working Dog Handler and deployed in support of NATO in the Balkans, Operation Iraqi Freedom, and Operation Enduring Freedom. Hardenio is currently Axon's Sr. Manager of TASER Operations and Packaging.

Amanda King joined Axon in 2021 after 17 years in Aerospace & Defense, of which part of this time was spent in the US Army as an Ordnance Officer. Amanda deployed two times to Operation Iraqi Freedom (once as a Soldier, once as a civilian). Amanda is currently Axon's Vice President of Software Services and is a military spouse to a Marine of 29 years and going.