How Axon supports safe places for all through its partnerships with the Seattle Police Department
Jun 30, 2023
At Axon, our mission is to Protect Life. For the Axon Allies, Axon's LGBTQ+ Employee Resource Group, our mission extends further, to protect life and to protect love.

The Axon Allies sit at a unique intersection between the LGBTQ+ community, and the law enforcement agencies tasked with keeping our cities safe. A 2022 UCLA School of Law study found that about 1 in 10 violent victimizations against LGBT people are hate crimes. With reported hate crimes against LGBTQ+ individuals on the rise, we have to ask ourselves "How can we use our unique position at Axon to help protect our community?"

To honor International Day Against Homophobia, Biphobia and Transphobia this year, Axon Allies recently hosted Officer Dorian Korieo of the Seattle Police Department (SPD) to share his story and highlight the importance of the Safe Place program in our communities.

When Officer Korieo first considered becoming a police officer fifteen years ago, there weren't many out LGBTQ+ officers in Seattle or across the country. He described a "put up or shut up moment," that pushed him to pursue policing.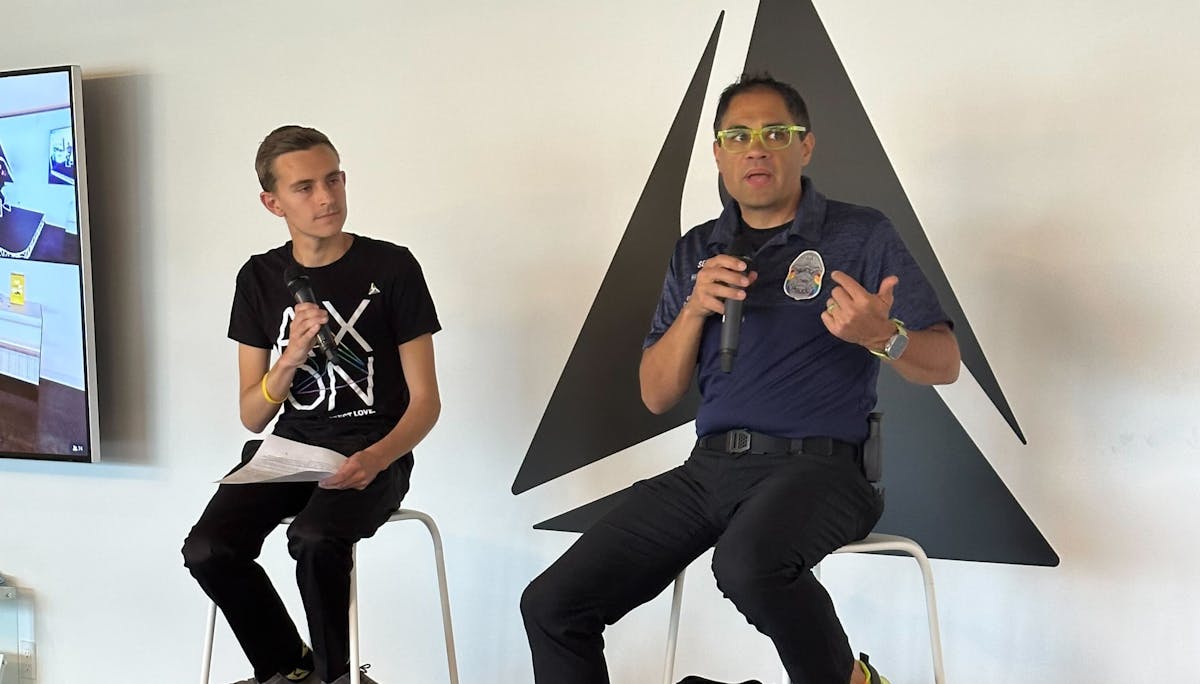 "One of the reasons I wanted to come into law enforcement," Officer Korieo recounted, "was to effect things within the [LGBTQ+] community and things that I see that I could change. If you want to see real change, you have to be the change that you want." Today, Seattle PD's ranks include over 65 out LGBTQ+ police officers.

The Safe Place program, a law enforcement sponsored initiative that was born out of a need to address low reporting of anti-LGBTQ+ hate crimes, is a partnership between the police department and local businesses. It was created to help bridge the gap between victims of hate crimes and the police. Safe Place is designed to give victims a place to go after their incident, where they know they will be safe.

Participating businesses receive a Safe Place sticker, training materials and flyers all at no cost. Over 7,000 businesses throughout Seattle currently participate in the program, and nearly 300 police agencies throughout the United States, Canada and Europe are actively working with SPD to become certified and initiate Safe Place in their communities.

Displaying a Safe Place sticker or flyer sends a powerful message that hate has no place in our communities, and lets victims know that they will be treated with dignity and respect from the business and the police officers who respond to the scene.

"Our event with Officer Koreio served as an added reminder for both identifying members and allies of the LGBTQ+ community that now more than ever, Axon is supportive," said Axon Learning and Development Facilitator, Matt Caldwell, who hosted the session. "Our event with officer Koreio featured an important conversation on allyship with takeaways for all about how to be a better supporter of the LGBTQ+ community."

To help expand the reach of the program, Safe Place materials are available in six languages: Chinese, English, Korean, Somali, Spanish and Vietnamese.

As the global leader in connected public safety technologies, Axon seeks to be a true partner to public safety — both in and out of uniform. We care deeply for those who selflessly protect and serve — and we constantly seek ways to lend a helping hand. With this dedication to our customer-base in mind, Axon is proud to sponsor the Safe Place program, through our support of the Seattle Police Foundation.

"I'm proud to work at a place that supports initiatives, like Safe Place, that protect my community," said Aimee Bervel, Chair and founding member of the Axon Allies, "our mission to Protect Life isn't just words, we take it very seriously."

Officer Koreio was recently honored by the International Association of Chiefs of Police with the 2022 Leadership in Human and Civil Rights award for his advocacy and work with the Safe Place program. You can learn more about the Safe Place program here.

Bring your full self to work

Axon Allies is one of six Axon Employee Resource Groups dedicated to empowering employees and fostering a culture of belonging.

"Every single day, I am reminded of the fact my work as a queer member of the tech industry is actually making a difference... it's actually saving lives," explains Travis Hove, a member of the Axon Allies group.

Axon Employee Resource Groups are for all employees, both identifying members and their allies. If you are interested in learning more about Axon, visit us at Axon careers.