Protecting Life: Axon Mosaic + the Meaning of Juneteenth
Jun 19, 2023
Originating from Galveston, Texas on June 19, 1865, Juneteenth is the oldest nationally celebrated commemoration of the ending of slavery in the United States. It's also recognized as Emancipation Day, Freedom Day, Jubilee Day, Juneteenth Independence Day and Black Independence Day. Over the years, celebrations for the date have spread across the country, culminating in Juneteenth becoming a federal holiday on June 17, 2021.

This week, we sat down with a few of the members of Axon Mosaic, an Axon affinity group creating a safe space that fosters community and connection among Axon's Black employees and allies. Each of these individuals shared what Juneteenth means to them, as a black employee and as an individual working to make the world a more equitable place.

What does Juneteenth mean to you?
"Growing up in Texas, my family has celebrated Juneteenth my entire life," explained Elijah Gifford, a member of Axon's Leadership Development Program (LDP). "As a kid, my family would celebrate with those in our neighborhood at the local park with music, BBQ and crawfish, participating in fun activities and games, while embracing the joyous spirit of the day with each other. After Juneteenth became a federal holiday and received more recognition from those outside of our culture, we would attend the Juneteenth parade in East Austin where you will find low-riders, the Black Cowboys, live music, and more."

Jayson Baldridge, who works alongside Elijah in the LDP, has similar memories. "Where I grew up in Texas, Juneteenth was celebrated by the whole community. We enjoyed live music, BBQ, and horseback rides. For me, Juneteenth has always been about celebrating the community we have been able to build over the years."

Both Elijah and Jayson expressed the importance of continuing to celebrate the holiday now that they live apart from their hometowns. "This year, I plan to celebrate Juneteenth by attending the local events and gatherings with friends so we can support local Black businesses around Scottsdale and Phoenix, Arizona," shared Elijah.

Sasha Simmons, former President of Axon Mosaic, shared that she didn't grow up celebrating Juneteenth.

"I first learned about and started celebrating Juneteenth 8 years ago after moving to Phoenix, AZ." Today, Sasha uses Juneteenth as a chance to reflect on the experiences and sacrifices of generations past. "I honor this holiday through service, reverence, and by spending quality time with friends and family who are appreciative of the journey of enslaved Black Americans. We realize that we stand squarely on their shoulders and that their sacrifices are the reason we exist today."

As a Brand Evangelist Manager at Axon, Sasha spends her days at work traveling across the country sharing Axon's story. This week, Sasha will share her personal story as a black American at a Phoenix-based event hosted by Ebone "Muse" Johnson in partnership with the Desert Botanical Garden:

"I will kick the weekend off by sharing my story as a speaker at 'Centered. A Storytelling Experience.' I will also spend Saturday volunteering at the Scottsdale Juneteenth event with the East Valley NAACP. For me, the spirit of Juneteenth is one of love, hope and progression, and I am proud to stand on the shoulders of such valiant people."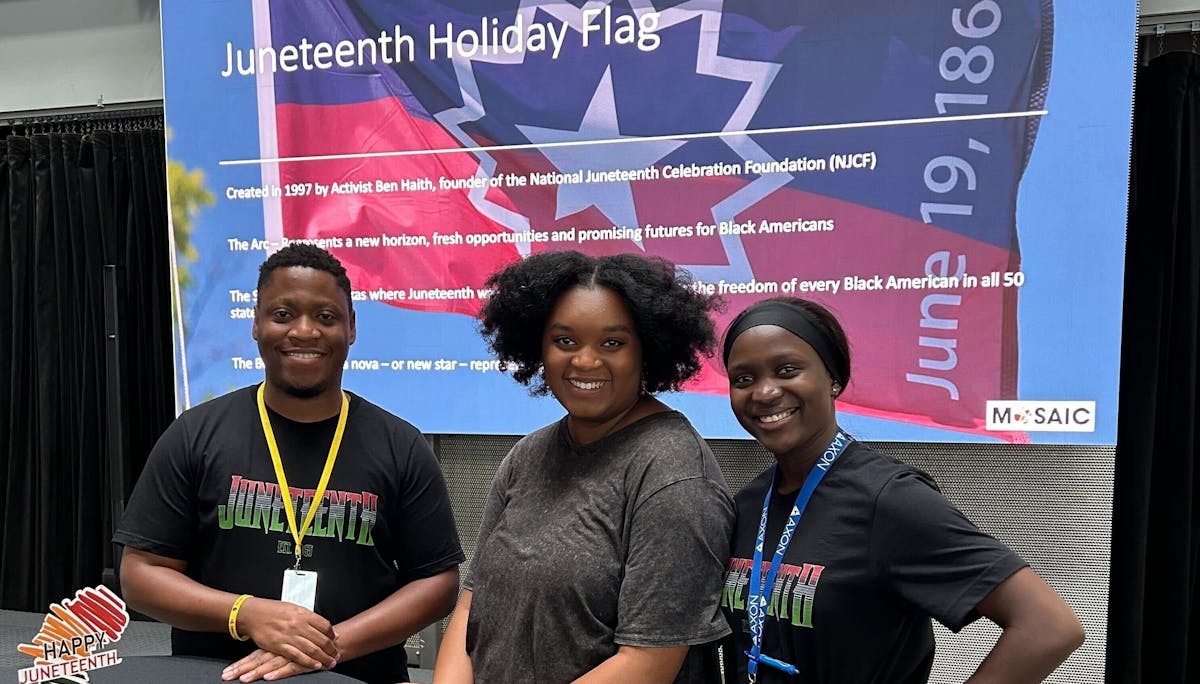 Juneteenth at Axon
In the spirit of "love, hope and progression," Axon Mosaic hosted a mixer where we celebrated Juneteenth and the progress we champion today and every day.

At Axon, Juneteenth serves as a reminder of our mission and of the need to consciously and consistently advocate for the equality of all individuals across the globe. Humans of every race deserve the right to live freely and securely.

If you are interested in learning more about Axon Mosaic and Axon's Justice, Equity, Diversity and Inclusion program, please visit axon.com/jedi